They Were Wilfully Blind
4th October 1940
Page 13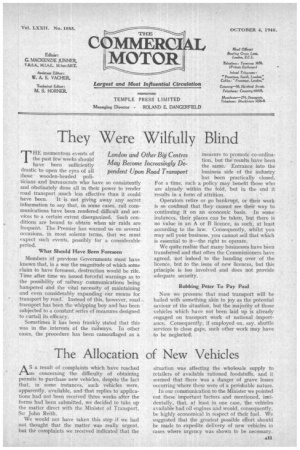 Page 13, 4th October 1940 —
They Were Wilfully Blind
Close
Keywords :
THE momentous events of the past few weeks should have been sufficiently drastic to open the eyes of all those wooden-headed politicians and bureaucrats who have so consistently and obstinately done all in their power to render road transport much less effective than it could have been. It is not giving away any secret information to say that, in some cases, rail communications have been rendered difficult and services to a certain extent disorganized. Such conditions are bound to obtain when air raids are frequent. The Premier has warned us on several occasions, in most solemn terms, that we must expect such events, possibly for a considerable period.
What Should Have Been Foreseen Members of previous Governments must have known that, in a war the magnitude of which sotne claim to have foreseen, destruction would be rife. Time after time we issued forceful warnings as to the possibility of railway communications being hampered and the vital necessity of maintaining and even considerably expanding our means for transport by road: Instead of this, however, road transport has been the whipping boy and has been subjected to a constant series of measures designed to curtail its efficacy. , Sometimes it has been frankly stated that this was in the interests of the railways. In other• cases, the procedure has been camouflaged as a measure to promote co-ordination, but the 'results have been the same. Entrance into the business side of the industry has been practically closed. For a time, such a policy may benefit those who are already within the fold, but in the end it results in a form of attrition.
Operators retire or go bankrupt, or their work is so confined that they cannot see their way to continuing it on an economic basis. In some instances, their places can be taken, but there is no value in an A or B licence, as such, at least according to the law. Consequently, whilst you may sell your business, you cannot sell that which is essential to it—the right to operate. We quite realize that many businesses have been transferred and that often the Commissioners have agreed, not indeed to the handing over of the licence, but to the issue of new licences, but this principle is too involved and does not provide adequate security.
Robbing Peter To Pay Paul Now we presume that road transport will be hailed with something akin to joy as the potential saviour of the situation, but the majority of those vehicles which have not been laid up is already engaged on transport work of national importance. Consequently, if employed on, say, shuttle services to close gaps, such other work may have to be neglected.