LONDON TRANSPORT'S 6,400 VEHICLES
4th November 1938
Page 54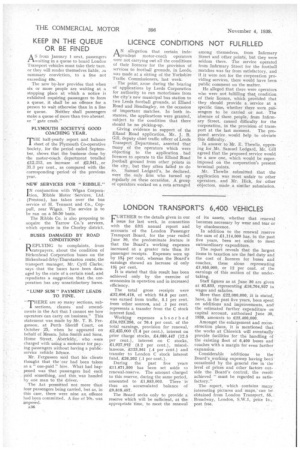 Page 54, 4th November 1938 —
LONDON TRANSPORT'S 6,400 VEHICLES
Close
• ICURTHER to the details given in our 1 issue for last week, in connection with the fifth annual report and accounts of the London Passenger Transport Board, for the year ended June 30, the predominate feature is
that the Board's working expenses increased at a greater rate than its
passenger receipts. Expenses were up by 15f per cent, whereas the Board's earnings showed an increase of only 131 per cent.
It is stated that this result has been achieved only by the exercise of economies in operation and in increased efficiency.
The total gross receipts were £32,606,418, of which 94.8 per cent.
was earned from traffic, 5.1 per cent. from other sources, and .1 per cent. represents a transfer from the C stock interest fund.
Working expenses absorb ed £24,923,256, or 76.4 per cent, of the total earnings, provision for renewal,
£2,425,000 (7.4 per cent.), interest on prior charge stocks, £4,080,447 (12.5
per cent.), interest on C stocks, £1,027,952 (3.2 per cent.), miscellaneous, £123,561 (.4 per cent.) and transfer to London C stock interest fund, £26,202 (.1 per cent.).
During the past five years £11,671,500 has been set aside TO renewal-reserve. The amount charged to this reserve, during the same period, amounted to £1,853,003. There is thus an accumulated balance of £9,818,497.
The Board seeks only to provide a reserve which will be sufficient, at the appropriate time, to meet the renewal of its assets, whether that renewal becomes necessary by wear and tear or by obsolescence.
In addition to the renewal reserve the sum of £1,114,000 has, in the past five years, been set aside to meet extraordinary expenditure.
The report reveals that the largest items in taxation are the fuel duty and the cost of licences for buses and coaches, these alone representing £1,955,000, or 12 per cent. of the earnings of this section of the undertaking.
Staff figures as at June 30 are given at 82,833, representing £16,704,937 in wages and salaries.
More than £22,000,000, it is stated, have, in the past five years, been spent on additions and improvements, and the estimated further expenditure on capital account, authorized June 30,. 1938, amounts to £23,400,000.
Amongst the enlargement and reconstruction plans, it is mentioned that. the works at Chiswick will eventuallyprovide facilities for the handling of the existing fleet of 6,400 buses and coaches with a margin for even further expansion.
Considerable additions to the Board's working expenses having been occasioned by the general rise in the' level of prices and other factors outside the Board's control, the result . achieved "must be regarded as satisfactory."
The report, which contains many. interesting pictures and maps, can be obtained from London Transport, -55. Broadway, London, S.W.1, price 1s,, post free.