LICENCE CONDITIONS NOT FULFILLED
4th November 1938
Page 54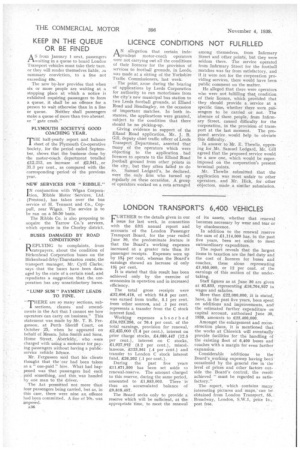 Page 54, 4th November 1938 —
LICENCE CONDITIONS NOT FULFILLED
Close
AN allegation that certain inde.pendent motor-coach operators were not carrying out all the conditions of their licences for the provision of services to football grounds, in Leeds, was made at a sitting of the Yorkshire Traffic Commissioners, last week.
The point arose during the hearing of applications by Leeds Corporation for authority to run motorbuses from the city's new municipal bus station to two Leeds football grounds, at Elland Road and Headingley, on the occasion of important matches. In both instances, the applications were granted, subject to the condition that there should be no picking-up.
Giving evidence in support of the Elland Road application, Mr. J. B. Gill, deputy chief traffic officer of Leeds Transport Department, asserted that many of the operators which were objecting to the application had licences to operate to the Elland Road football ground from other points in the city, but they often failed to do So. Samuel Ledgard's, he declared, were the only firm who turned up regularly on these occasidns. A group of operators worked on a rota arranged among themselves, from Infirmary Street and other points, but they were seldom there. The service operated from Infirmary Street for the football matches was far from satisfactory, and if it were not for the corporation providing services, there would have been public comment on the matter.
He alleged that there were operators who were not fulfilling that, condition of their licence, which provided that they should provide a. service at a specific time, whether there were passengers to be carried or not. The absence of these people, from Infirmary Street, caused difficulty for the corporation, in the provision of transport at the last moment. The proposed service. would help to obviate this difficulty.
In answer to Mr. E. Thewlis, oppcising for Mr. Samuel Ledgard, Mr. Gill agreed that the proposed service would be a new one, which would be superimposed on the corporation's present terminal points.
Mr. Thewlis submitted that , the application was most unfair to other operators, and Mr. Hick, for other objectors, made a similar submission.