KEEP IN THE QUEUE OR BE FINED
4th November 1938
Page 54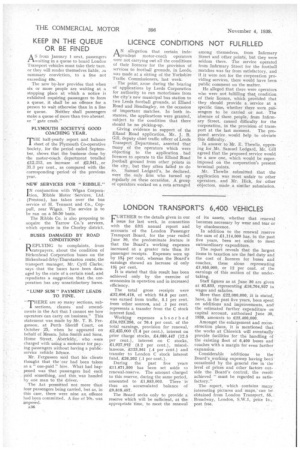 Page 54, 4th November 1938 —
KEEP IN THE QUEUE OR BE FINED
Close
AS from January 1 next, passengers waiting in a queue to board London Transport vehicles must take their turn. or they will render themselves liable. Ja summary conviction, to a fine not exceeding 40s.
The new by-law provides that when six or more people are waiting at a stopping place at which a notice is exhibited requiring passengers to form a queue, it shall be an offence for a person to wait otherwise than in a line or queue. Neither shall passengers make a queue of more than two abreast. or "gate crash."
PLYMOUTH SOCIETY'S GOOD COACHING YEAR.
THE half-yearly report and balance sheet of the Plymouth Co-operative Society, for the period ended September, shows that the business done by the motor-coach department totalled £12,313, an increase of £2,941" or 31.3 per cent., as compared with the corresponding period of the previous year.
NEW SERVICES FOR " RIBBLE."
1N conjunction with Wigan Corporation, Ribble Motor Services, Ltd. (Preston), has taken over the bus service of H. Tennant and Co., Coppull, near Wigan. The service is to be run on a 50-50 basis.
The Ribble Co. is also proposing to acquire the Yarrow Co.'s services, which operate in the Chorley district.
BUSES DAMAGED BY ROAD CONDITIONS?
REPLYING to complaints, from 1\ratepayers, about the condition of Birkenhead Corporation buses on the Birkenhead-Irby-Thurstaston route, the transport manager, Mr. Cyril Clarke, says that the buses have been damaged by the state of a certain road, and repudiates a suggestion that the corporation has any unsatisfactory buses.
"LUMP SUM" PAYMENT LEADS TO FINE.
" 'THERE are SG many sections, sub
I. sections, clauses and amendments in the Act that I cannot see how operators Can carry on business." This statement was made by Mr. T. B. Fergusson, at Perth Sheriff Court, on October 25, when he appeared on behalf of Messrs. John Smith and Sons, Home Street. Aberfeldy, who -were charged with using a motorcar for paying.passengers without having a publicservice vehicle licence.
Mr. Fergusson said that his clients thought that the car had been taken as a " one-paid" hire. What had happened was that passengers had each paid something, and this was handed by one man to the driver.
The Act permitted not more than four passengers being carried, but as, in this case, there were nine an offence had been committed. A fine of 10s, was imposed.