Mr. Sewill's Plea for Higher Rates
4th November 1938
Page 47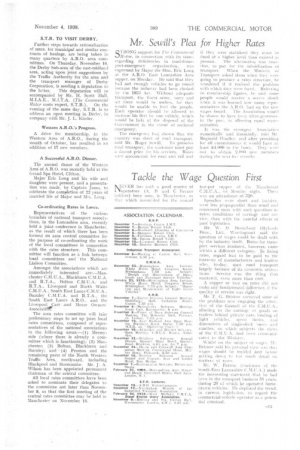 Page 47, 4th November 1938 —
Mr. Sewill's Plea for Higher Rates
Close
STRONG support for The Commercial Motor, in connection with its stawi regarding deficiencies in road-transport-emergency organization, was expressed by Major the Hon. Eric Long at the A.R.O. East Lancashire Area supper, on Monday. He said that they had not enough vehicles to go round because the industry hadbeen choked he the 1933 Act.. Without adequate transport, the finest army, navy a rid air force would be useless, for they would be unable to feed the people. Each operator should be allowed to increase his fleet by one vehicle, which would be held at the disposal of the Government in the event of national emergency.
The emergence had shown that the countrywas short of road transport, said Mr. Roger Sewill. To preserve road transport, the customer must pay a decent price for his services. Rates k\ ere uneconomic for road and rail and if they were stabilized they must be fixed at a higher level than existed at
present. The alternative was taxation, to pay for the subsidization of transport. When the Ministry of Transport asked them when they were going to produce a rates structure, he wondered if it realized the problem with which they were faced. Referring to membership figures, he said some people would receive a severe shock when it was learned how many representatives the A.R.O. had on the new wages board. The Association would be shown to have been ultra-generous. in the past, in allowing equal reimsentation.
It was the strongest Association numerically and financially, said Mr. Reginald Hiudley, and after providing for all commitments it would have at least :E14,000 in the bank. They nere out to obtain 2.1410 new members during the next [O..: illOrlth.