" Borrowed " a Licence Case : Salesman to Pay £100
4th November 1938
Page 44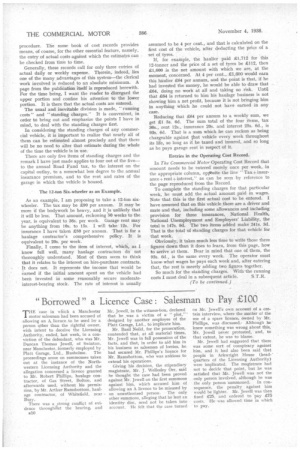 Page 44, 4th November 1938 —
" Borrowed " a Licence Case : Salesman to Pay £100
Close
THE case in which a Manchester motor salesman had been accused of allowing an A licence to be used by a person other than the rightful owner, with intent to deceive the Licensing Authority, ended, last week, in a conviction of the defendant, who was Mr. Duncan Thomas Jewell, of Swinton, near Manchester, formerly employed by Platt Garage, Ltd., Rusholme. The proceedings arose on summonses taken out at the instance of the Northwestern Licensing Authority and the allegation concerned a licence granted to Mr. Robert Phillips, haulage contractor, of Gas Street, Bolton, and afterwards used, without his permission, by Mr. Arthur Ramsbottom, haulage contractor, of Whitefield, near Buiy.
There was a strong conflict of evidence throughjut the hearing, and 1310 Mr. Jewell, in the witness-box, declared that he , was a victim of a " plot," designed by another employee of the Platt Garage, Ltd., to implicate him.
Mr. Basil Neild, for the prosecution, contended that, at all material times, Mr. Jewell was in full possession of the facts, and that, in order to aid him in his business as salesman of lorries, he had secured Mr. Phillips's licence for Mr. Ramsbottom, who was anxious to extend his operations.
Giving his decision, the stipendiary magistrate, Mr. J. Wellesley Orr, said he thought the case had been proved against Mr. Jewell on the first summons against him, which accused him of allowing an A licence to be misused by an unauthorized person. The only other summons, alleging that he lent an identity disc, need not he taken into account. He felt that the case turned on Mr. Jewell's own account of a certain interview, where the matter of the use of a spare licence, owned by Mr. Phillips, was discussed. Although he knew something was wrong about this, Mr. Jewell never protested, and, to that extent, he was to blame.
Mr. Jewell had suggested that there was some sort of conspiracy against him, and it had also been said that people in Arkwright House (head-quarters of the Licensing Authority) were implicated. The magistrate had not to decide that point, but he was satisfied that Mr. Jewell was not the only person involved, although he was the only person summoned. In consequence, the penalty against him would he lighter. Mr. Jewell was then fined £25, and ordered to 'pay £75
costs. was allowed time in which to pay.