PERSONAL PARS.
4th November 1938
Page 31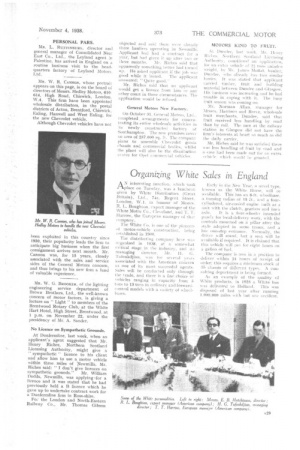 Page 31, 4th November 1938 —
PERSONAL PARS.
Close
MR. L. RUITENBURG, director and general manager of Consolidated Near East Co., Ltd., the Leyland assent 1n Palestine, has arrived in England on a routine business visit to the headquarters factory of Leyland Motors, Ltd.
MR. W. R. CANNON, whose portrait appears on this page, is on the board of directors of Messrs. Hedley Motors, 610614. High Road, Chiswick, London, W,9. This firm have been appointed wholesale distributors, in the postal districts of Acton, Brentford, Chiswick, Ealing, Hanwell and West Ealing, for the new Chevrolet vehicle,
Although Chevrolet vehicles have not been exploited in this country since 1939, their popularity leads the firm to anticipate big business when the first consignment arrives next month. Mr. Cannon was, for 15 years, closely associated with the sales and service sides of the General Motors concern, and thus brings to his new firm a fund of valuable experience.
MR.. W. G. BROOKER, of the lighting engineering service department of Brown Brothers, Ltd., the well-known concern of motor factors, is giving a lecture on " Light" to members of the Brentwood Rotary Club,at the White Hart Hotel, High Street, Brentwood, at 1 p.m. on November 22, under the presidency of Mr. A. Sander.
No Licence on Sympathetic Grounds.
At Dunfermline, last week, when an applicant's agent suggested that Mr. Henry Riches, Northern Scotland Licensing Authority, might give a " sympathetic " licence to his client and allow him to use a. motor vehicle within three miles of Newmills, Mr. Riches said: " I don't give licences on sympathetic grounds." Mr. William Dodds, Newrnills, was applying 'for a licence and it was stated that he had previously held a B licence which he gave up to undertake contract work for a 'Dunfermline firm in Ross-shire.
For the London an North-Eastern Railway Co., Mr_ Thomas Gibson objected and said there were already three hauliers operating in New mills. Applicant had had a contract for a year, but had given it up after two or
three months, Mr. Riches said that apparently something better had turned up. He asked applicant if the job sea:
good while it lasted. The applicant answered: " Quite good."
Mr. -Riches said that no applicant would get a licence from him or any other court in those circumstances, 'rue application would be refused.
General Motors New Factory.
On October 31, General Motors, Ltd., completed. arrangements for concentrating its entire wholesale activities le i Is newly constructed factory at Southampton. The new premises cover an area of 237,000 sq. ft. The company plans to assemble Chevrolet goods chassis and commercial bodies, whilst t he plant will also be the distribution centre for Opel commercial vehicles. MOTORS KIND TO FRUIT.
At Dundee, last ,aeek, Mr. Henry itiehes. Northern Scotland Licensing Authority, considered an application, Inc an extra vehicle of 21tons unladen weight, by ltle Jinnes Moffat, haulier, Dundee, who already has two similar lorries. It was stated that applicant carried timber, fruit a tid building material between Dundee and Glasgow. [tie business was increasing and he had trouble in coping with it. The busy fruit season was coming on, Mr. Norman Allan, Ina:lager for Messrs. Harrison and Reeve, wholesale fruit merchants, Dundee, said that fruit received less handling by road than by rail. The men at the railway station in Glasgow did not have the firm's interests at heart so much as did the daily carrier.
Mr. Riches said he was satisfied there was less handling of fruit by road and a case had been made out for an extra vehicle. which winild lie granted,