Organizing White Sales in England A N interesting function, which took
4th November 1938
Page 31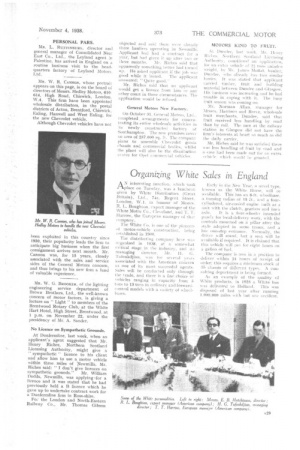 Page 31, 4th November 1938 —
Organizing White Sales in England A N interesting function, which took
Close
place on Tuesday, was a luncheon given by White Distributors (Great Britain), Ltd., 74a. Regent Street, London, W.1, in honour of Messrs. R. L. Boughton, export manager of the White Motor Co., Cleveland, and T. 'F. Harrow, the European manager of that company.
Tim White Co. is one of the pioneer, of rooter-vehicle construction, being CF.tablished in 1000.
The distributing company heie seas organized in 1938, at a somewhat critical stage in the industry, and its managing director, Mr. 11. 11. Tufenkdjian, was Ezseveral years associated with the American concern as one of its most successful agents. Sales will be conducted only through the trade, and there is a fine choice of vehicles ranging in capacity from 5 tons to 13 tons in ordinary and forward. controlmodels with a variety of wheel. bases. Early in. the New Year, a novel type, known as the White Horse, will Oe available. This has an 8-ft, wheelbase, a turning radius of 15 ft., and a. fourcylindered, air-cooled engine built as it unit with the clutch, gearbox and bae;s axle. It is a four-wheeler intended purely for local-delivery work, with the controls 'Mounted on a pillar after the style adopted in sonic trams, and a low one-step entrance. Normally, the driver will stand, but a seat will be available if required. It is claimed that this vehicle will rim For eight. hours on a gallon of fuel.
The company is now in a position to deliver within 24 hours of receipt of order; this requires a minimum stock of :;5 chassis of different types. A consulting department is being formed, As an example of the quality of White products, in 1925 a White bus was delivered to Holland. This was disposed of last year after running 1,000,000 miles with butt one accident.