Army Stages a Contest in Mechanization
4th November 1938
Page 30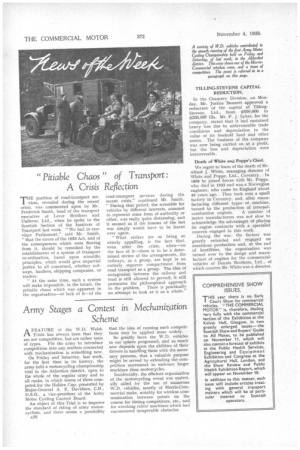 Page 30, 4th November 1938 —
Army Stages a Contest in Mechanization
Close
Scheme
AFEATURE of the W.D. Welsh Trials has always been that they are not competitive, but are rather tests of types. FOr the army to introduce competition into any matters connected with mechanization is something new.
On Friday and Saturday, last week, for the first time in its history, the army held a motorcycling championship trial in the Aldershot district, open to the whole of the regular army and to all ranks, in which teams of three cornpeted.for the Holden Cup, presented by Major-General A. E. Davidson, C.B., D.S.O., a vice-president of the Army Motor Cycling Control Board.
An object of this Trial is to improve the standard of riding of army motorcyclists, and there seems a possibility A28 that the idea of running such competitions may be applied more widely.
So greatly have the W.D. vehicles in our sphere progressed, and so much now depends upon the abilities of their drivers in handling them with the necessary prowess, that a valuable purpose might be served by extending the competition movement to embrace larger machines than motorcycles.
Incidentally, the efficient organization of the motorcycling event was materially aided by the use of numerous W.D. vehicles, mostly of Morris-Commercial make, notably for wireless communication between points on the course for timing competitors, etc., and for winching riders' machines which had encountered insuperable obstacles.