• Operating Aspects of PASSENGER TRANSPORT
4th November 1932
Page 64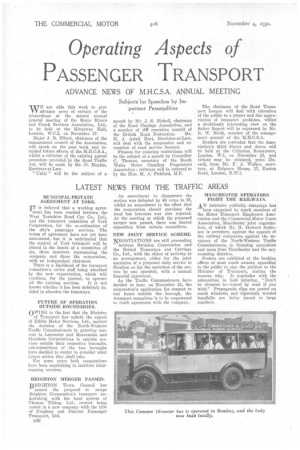 Page 64, 4th November 1932 —
• Operating Aspects of PASSENGER TRANSPORT
Close
Keywords :
ADVANCE NEWS OF M.H.C.S.A. ANNUAL MEETING
VETE are able this week to give V V advance news of certain of the proceedings at the second annual general meeting of the Motor Hirers and Coach Services Association, Ltd., to be held at the Kingsway Hall, London, W.C.2, on November 17.
Major J. B. Elliott, chairman of the management council of the Association, will speak on the past work and intended future efforts of the ALEIC.S.A., whilst a criticism of the existing appeal procedure provided by the Road Traffic Act, will be made by Mr. D. Hopkin, Barrister-at-Law.
Unity" will be the subject of a speech by 'Mr. J. S. Nieholl, chairman of the Road Haulage Association, and a member of thg executive council of the British Road Federation. Mr. H. J. Astell Burt, Barrister-at-Law, will deal with the suspension and revocation of road service licences.
Finance for resisting restrictions will be the subject of a speech by Councillor C. Thomas, secretary of the South Wales Motor Omnibus Proprietors Association ; railways will be referred to by the Hen. M. A. Pickford, M.P. The chairman of the Road Transport League will deal with education. of the public to a proper and fair appreciation of transport problems, whilst a doubtlessly interesting view on the Salter Report will be expressed by Mr. R. W. Birch, member of the managemoit council of the M.H.C.S.A.
Readers are reminded that the Association's third dinner and dance will be held at the Criterion Restaurant, London, W.1, on November 23, and tickets may be obtained, price 15s. each, from Mr. F. A. Walker, secretary, at Belgrave House, 17, Euston Road, London, N.W.1.