Cabmen's Shelters.
4th November 1924
Page 8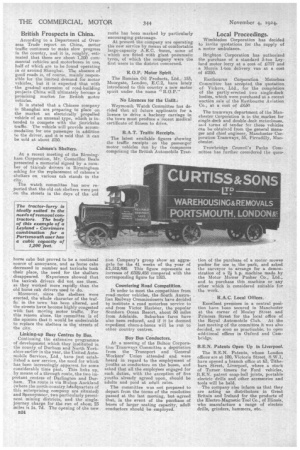 Page 8, 4th November 1924 —
Cabmen's Shelters.
Close
At a recent meeting of the Birmingham Corporation, Mr. Councillor Beale presented a memorial signed by a number of taxicab drivers in Birmingham asking for the replacement of cabmen's shelters on various cab stands in the city.
The watch committee has now reported that the old cab shelters were put on the streets in the days of the old horse cabs but proved to be a continual source of annoyance, and as horse cabs decreased in number and taxicabs took their place, the need for the shelters
• disappeared. Experience showed that the taxicab drivers did not use them. as they worked more rapidly than the old horse cab' drivers used to do.
Moreover, since the shelters were erected, the whole character of the trafficin the town has been altered, and the streets have become highly congested with fast moving motor traffic. For this reason alone, the committee is of the opinion that it would be undesirable to replace the shelters in the 'streets of the city.
Linking-up Busy Centres by Bus.
Continuing the extensive programme of development which they instituted in the county of Durham and North.Yorkshire earliei• in the year, the United Automobile Services, Ltd., have just established a new service, the need for which • has been increasingly apparent for some considerable time past. This links up, by means of a through route, the two important centres of Darlington and Durham. The route is via Bishop Auckland (where the north-country hdadquarters of this enterprising company are situated) and Spennymoor, two particularly prominent mining districts, and the singlejourney charge for the run of about 23 miles is is. 7d. The opening of the new
1324 route has been marked by particularly encouraging patronage. At present the company are operating the•new service by means of comfortable large-capacity A.E.C. .buses, some of • which are fitted with giant pneumatic tyres, of which the company were the first users in the district concerned.