A Vehicle Census on Brecon Roads. The large increase in
4th November 1924
Page 7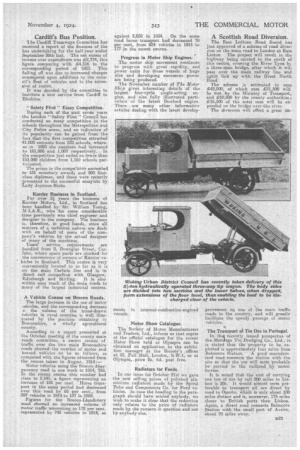 Page 7, 4th November 1924 —
A Vehicle Census on Brecon Roads. The large increase in
Close
the use of motor rehicles, and the corresponding decrease 11 the volume of the horse-drawn vehicles in rural counties is well illustrated by the position obtaining in Breconshire, a wholly agricultural county.
According to a report presented at the October meeting of the county main roads committee, a recent census of traffic over the two main Breeonshire roads showed the number of motor and horsed vehicles to be as follows, as compared with the figures obtained from the census taken in August, 1914:—
Motor vehicles using the Brecon-Abergavenny road in one week in 1914, 752. In the recent census this number had risen to 2,145. a figure representing an increase of 185 per cent. Horse transport in the same period had decreased over this road by 66 per cent., from 397 vehicles in 1914 to 137 in 1924.
Figures for the Brecon-Llandovery road showed an increased volume of motor traffic amounting to 172 per cent. represented by 745 vehicles in 1914, as
against 2,032 in 1924. On the same road horse transport had decreased 79 per cent, from 824 vehicles in 1914 to 177 in the recent census.