The Overhand Dinner. At the " Overland (K)Night " dinner,
4th November 1924
Page 5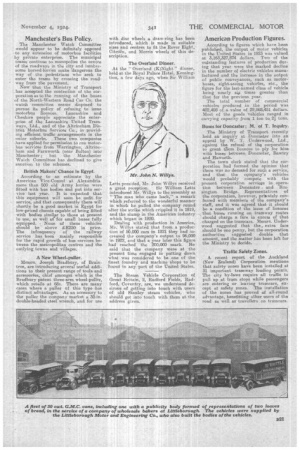 Page 5, 4th November 1924 —
The Overhand Dinner. At the " Overland (K)Night " dinner,
Close
held at the Royal Palace Hotel, Kensinglion, a few days ago, when Sir William
Letts presided, Mr. John Willys received
a great inception. Sir William Letts introduced Mr. Willys to the assembly as "The man who came back," a remark which referred to the wonderful manner in which he pulled the company round after the strike which crippled it in 1919, and the slump in the American industry which began in 1920.
Dealing with production in America, Mr. Willys stated that from a production of 50,000 Cars in 1921 they had increated the company's output to 96,000 in 1922, and that a year later this figure had reached the 200,000 mark. He said that the company were at the present time engaged in putting down what was considered to be one of the finest foundry and machine shops to be Tound in any part. of the United States.
The Steam Vehicle Corporation of Great Britain, 2, Radford Fields, Radford; Coventry, are, we understand desirous of getting into touch with users of old Stanley steam vehicles, who should get into touch with them at the address given.