The Allen-Liversidge Annual Dinner.
4th November 1924
Page 4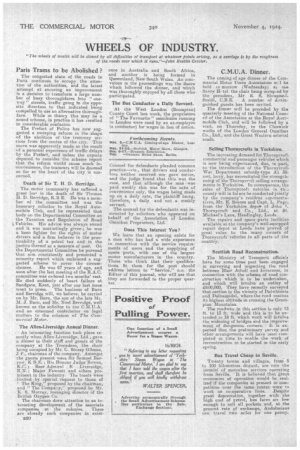 Page 4, 4th November 1924 —
The Allen-Liversidge Annual Dinner.
Close
An interesting function took place recently when Allen-Liversidge, Ltd., gave a dinner to their staff and guests of the company at the Trocadero, the chair being occupied by Mr. C. Storey Gilman, J P., chairman of the company. Amongst the guests present were Sir Sathuel Barrow K B.E. ; blis.Honour Judge Bowen, K.C1 ; Rear Admiral E Liversidge, R. ; Major Fawcett and ethers prominent in the industry. The toasts were --limited by special request to those of The King,' proposed by the chairman, and " The Company,proposed by Mr.
• R. S. Murray, managing director of the British Oxygen Co. .
The chairman drew attention to an interesting development of the associate companies in the colonies. There are already such companies in exist B20
ence in Australia and South Africa, and another is being formed in Queensland, New South Wales. An Innovation in the proceedings was the dance which followed the dinner, and which was thoroughly enjoyed by all those who participated.