COACHING TO THE WEDDING BREAKFAST.
4th November 1924
Page 26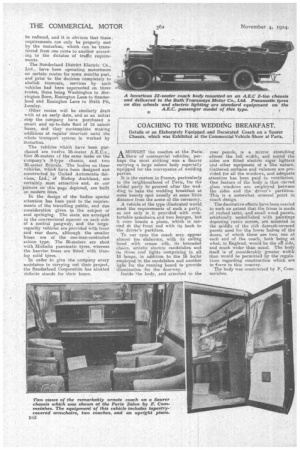 Page 26, 4th November 1924 —
COACHING TO THE WEDDING BREAKFAST.
Close
Details of an Elaborately Equipped and Decorated Coach on a Sattrer Chassis, which was Exhibited at the Commercial Vehicle Show at Paris.
AMONGST the coaches at the Paris Show of commercial vehiclesperhaps the most striking was a Saucer carrying a large saloon body especially equipped for the conveyance of wedding parties. it is the custom in France, particularly in the 'neighbourhood of Paris, for the bridal party toproceed after the wedding to take the wedding breakfast at some beauty spot usually at some little distance from the scene of the ceremony.
A vehicle of the type illustrated would, meet the requirements of such a party, as not only is it provided with comfortable armchairs and two lounges, but it even boasts a piano, which is carried at the front end with its back to the driver's partition.
To our eyes the coach may appear almost too elaborate, with its ceiling lined with cream silk, its brocaded chairs, artistic electric candelabra and its three roof lights comprising in all 1.6 lamps, in addition to the 16 bulbs employed in the candelabra and another light for the running board to provide illumination for the doorway.
Inside the body, and attached to the rear panels, is a mirror stretching almost the full width, and round the sides are fitted electric cigar lighters and other equipment of a like nature. ,Gathered ourtams and valances are provided for all the windows, and adequate attention has been paid to ventilation. One feature of the body is that curved glass windows are employed between the sides and the driver's partition. This is a somewhat unusual point in coach design.
The decorative effects have been carried to such an extent that the frieze is made of ruched satin, and small wood paneis, artistically embellished with paintings depicting rustic scenes, are mounted in the middle of the rich damask-covered panels used for the lower halves of the doors, of which there are two, one at each end of the coach, both being at whet, in England, would be the off side, and much wider than usual. The body itself is of considerably greater width than would be permitted by the regulations regarding construction which are in force in this Country.
The body was constructed by Commeinhcs.