BUSES AND ROAD MAINTENANCE.
4th November 1924
Page 24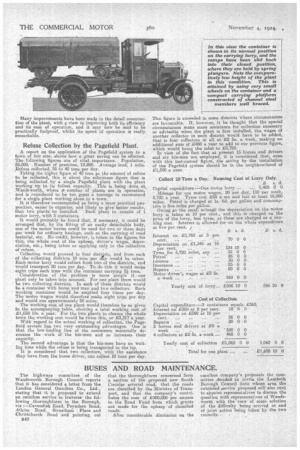 Page 24, 4th November 1924 —
BUSES AND ROAD MAINTENANCE.
Close
The highways committee of the Wandsworth Borough Council reports that it has considered a letter from the London General Omnibus Co., Ltd., stating that it is proposed to extend an omnibus service to traverse the following thoroughfares in the Borough, viz ;—Cavendish Road, Poynders Road, Atkins Road, Streatham Place and Christchurch Road and pointing out MO
that the thoroughfares concerned form a section of the proposed new South Circular arterial road, that the roads are classified by the Ministry of Transport, and that the company's contributes the sum of 2300,000 per annum to the Road Fund from which grants are -made for the upkeep of classified roads.
After considerable discussion on the omnibus company's proposals the committee decided to invite the Lambeth Borough Council (into whose area the extended service proposed will also run) • to appoint representatives to discuss the question with representatives of Wandsworth With the view of some solution of the difficulty being arrived at and of joint action being taken by the two councils.