The C.M.U.A. Comes of Age.
4th November 1924
Page 2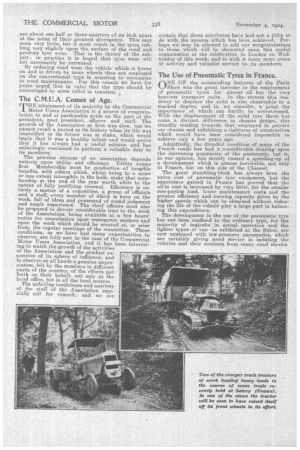 Page 2, 4th November 1924 —
The C.M.U.A. Comes of Age.
Close
THE attainment of its majority by the Commercial Motor Users Association is a source of congratulation to and of pardonable pride on the part of the president, past president, officers and staff. The growth of the Association at first was slow, but we cannot recall a period in its history when its life was imperilled or its future was at stake, which would imply that it was a healthy infant and would prove that it has always had a useful mission and has unfailingly continued to perform a valuable duty to its members. The genuine success of an association depends entirely upon utility and efficiency. Utility comes first. Membership must be productive of tangible benefits, with others which. whilst 'being to a more or less extent intangible in the bulk, make that membership at the end of the year worth while to the extent of fully justifying renewal. Efficiency is entirely a matter of a committee, a group of officials and a staff, every member of which is keen on the work, full of ideas and possessed of sound judgment and ample experience. The chief officers must also be prepared to devote considerable time to the work of the Association-, being available at a few hours' notice for consultation upon emergency matters and upon the work which should be created at, or arise from, the regular meetings of the committee. These conditions, as we have had many opportunities to observe, are fully met in the ease of the Commercial Motor Users Association, and it has been interesting to watch the growth of the activities of the Association and the gradual expansion of its sphere of influence, and to observe on all hands a genuine appreciation, felt by the members in different parts of the country, of the efforts put forth on their behalf, not only at the head office, but in all the local centres. The unfailing tactfulness and courtesy of the staff of the Association esPecially call for remark, and we are certain that those attributes have had not a little to do with the success which has been achieved. Perhaps we may be allowed to add our congratulations to those which will be showered upon this useful organization at the celebration in London on Wednesday of this week, and to wish it many more years of activity and valuable service to its members.