How the Motor Helps the Footwear Trade.
4th November 1924
Page 10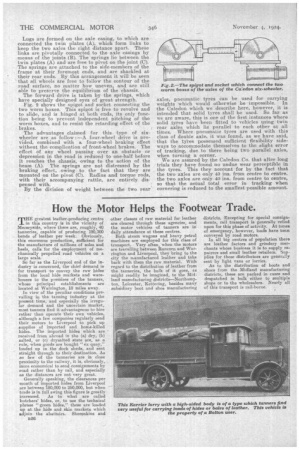 Page 10, 4th November 1924 —
How the Motor Helps the Footwear Trade.
Close
THE greatest leather-producing centre in this country is in the vicinity of Merseyside, where there are, roughly, 40 tanneries, capable of producing 190,000 bends of leather per week. Obviously, this enormous production, sufficient for the manufacture of millions of soles and heels, calls for the employment of mechanically propelled road vehicles on a large scale.
So far as the Lives-pool end of the industry is concerned, the chief demand is for transport to convey the raw hides from the local hide markets and warehouses to the premises of the tanners, whose principal establishments are located at Warrington, 18 miles away.
In view of the peculiar conditions prevailing in the tanning industry at the present time, and especially the irregular demand and the uncertain market, most tanners find it advantageous to hire rather than operate their own vehicles, although a few companies regularly send their motors to Liverpool to pick up supplies of imported and home-killed hides. The imported hides which are received from abroad in the (a) dry, (b) salted, or (c) drysalted state are, as a rule, when Foods are bought "ex quay," loaded up in the dock sheds, and sent straight through to their destination. As so few of the tanneries are in close proximity to the railway, it is, obviously, more economical to send consignments by road rather than by rail, and especially as the distances are not very great.
Generally speaking, the clearances per month of imported bides from Liverpool are between 180,000 to 250,000, but when trade is in full swing this figure is greatly increased. As to what are called butchers' hides, or, to use the technical phrase "green hides," these are loaded up at the hide and skin markets which adjoin the abattoirs. Sheepskins and B26
other classes of raw material for leather are cleared through these agencies, and the motor vehicles of tanners are in daily attendance at these centres.
Both steam wagons and heavy petrol machines are employed for this class of transport.. Very often, when the motors are travelling between Runcorn and War. rington and Liverpool, they bring to the city the manufactured leather and take back with them the raw material. With regard to the distribution of leather from the tanneries, the bulk of it goes, as might readily be imagined, to the Mid. land manufacturing districts—Northampton, Leicester, Kettering, besides many subsidiary boot and shoe manufacturing
districts. Excepting for special consignments, rail transport is generally relied upon or this phase of activity. At times of emergency, however, loads have been conveyed by road motors.
In all big centres of population there are leather factors and grindery merchants whose business it is to supply repairers and small leather retailers. Supplies for these distributors are generally sent by light vans or lorries.
As to the distribution of boots and shoes from the Midland manufacturing districts, these are packed in cases and despatched in bulk either to multiple shops or to the wholesalers. Nearly all of this transport is rail-borne