lini)ressmerti
4th March 1915
Page 7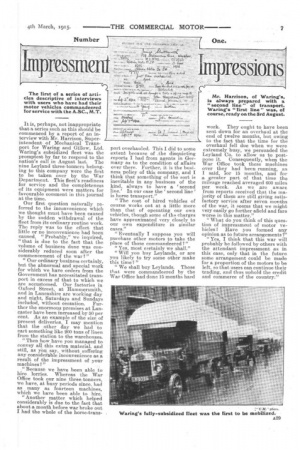 Page 7, 4th March 1915 —
lini)ressmerti
Close
The first of a series of articles descriptive of interviews with users who have had their motor vehicles commandeered for service with the A.SC., M.T.
It is, perhaps, not inappropriate that a series such as this should be commenced by a report of an interview with Mr. Harrison, Superintendent of Mechanical Transport for Waring and Gill-ow, Ltd. Waring-'s subsidized fleet was the promptest by far to respond to the nation's call in August last. The nine Leyland three-tonners belonging to this company were the first to be taken over by the War Department. This fleet's readiness for service and the completeness of its equipment were matters for favourable comment in this journal at the time.
Our first question naturally referred to the inconvenience which we thought must have been caused by the sudden withdrawal of the fleet from its ordinary routine work. The reply was to the effect that little or no inconvenience had been caused. "Probably," we inquired, "that is due to the fact that the volume of business done was considerably reduced soon after the commencement of the war 7 "
" Our ordinary business certainly, but the abnormal and special work for which we have orders from the Government has necessitated transport in excess of that to which we are accustomed. Our factories in Oxford Street, at Hammersmith, and in Lancashire are working day and night, Saturdays and Sundays included, without cessation. Further the enormous premises at Lancaster have been increased by 50 per cent. As an example of the size of present deliveries. I may mention that the other day we had to cart something like 200 tons of linen from the station to the warehouses.
" Then -how have you managed to convey all this extra material, and still, as you say, without suffering any considerable inconvenience as a result of the impressment of your machines?"
"Because we have been able tohire lorries. Whereas the War Office took our nine three-tonners, we have, at busy periods since, had as many as fourteen machines, which we have been able to hire.
"Another matter which helped considerably is due to the fact that about a month before war broke out I had the whole of the horse-trans port overhauled. This I did to some extent because of the disquieting reports I had from agents in Germany as to the condition of affairs over there. Further, it is the business policy of this company, and I think that something of the sort is inevitable in any business of the kind, always to have a 'second line.' In our case the second line Is horse transport."
"The cost of hired vehicles of course works out ata little more than that of operating our own vehicles, though some of the charges have approximated very closely to our own expenditure in similar cases."
" Eventually I suppose you will purchase other motors to take the place of those commandeered?"
"Yes, most certainly we shall."
"Will you buy Leylands, or are you likely to try some other make this time ? "
" We shall buy Leylands. Those that were commandeered by the War Office had done 15 months hard
work. They ought to have been sent down for an overhaul at the end of twelve months, but owing to the fact that the time for the overhaul fell due when we were extremely busy, we persuaded the Leyland Co. to allow us to post
one it. Consequently, when the War Office tosk these machines over they had been running, as I said, ior 15 'months, and for a greater part of that time the mileage reached averaged 600 miles per week. As we are aware from reports received that the majority of them are still giving satisfactory service after seven months of the war, it seems that we might very easily go further afield and fare worse in this matter."
"What do you think of this question of impressmesit of motor vehicles? Have you formed any opinion as to future arrangements?"
"Yes, I think that this war will probably be followed by others with the attendant impressment as in this case, only that in the future some arrangement could be made for a proportion of the motors to be left, so that users can continue their trading, and thus uphold the credit and commerce of the country."