Answers to Queries.
4th March 1915
Page 18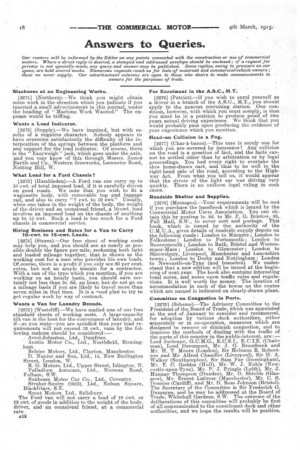 Page 18, 4th March 1915 —
Answers to Queries.
Close
Our readers will, be informed by the Editor on any points connected with the construction or use of commercial motors. Where a direct reply is desired, a stamped and addressed envelope should be enclosed; f a request for privacy is not specially made, any query and answer may be published. Some replies, owing to pressure on our space, are held several weeks. Numerous requests reach us for lists of motorcab and cornmercial•vehicle owners ; these we never supply. Our advertisement columns are open to those who desire to make announcements to
owners for the purposes of trade.
Slackness at an Engineering Works.
L2271] (Northern).—We think you might obtain some work in the direction which you indicate if you inserted a small advertisement in this journal, under the heading of "Machine Work Wanted." The expense would be trifling.
Wants a Load Indicator.
[2272] (Supply).—We have inquired, but with results of a negative character. Nobody appears to have overcome satisfactorily the difficulty of the interposition of the springs between the platform and any support for the load indicator. Of course, there is the Easyweigh" jack, which goes under the axle, andyou may know of this through Messrs, James
Bartle and Western Ironworks, Lancaster Road, Notting Hill, Co.,.
What Load for a Ford Chassis?
[2273] (Hambleden).—A Ford van can carry up to 10 cwt. of total imposed load, if it is carefully driven on good roads. We note that you wish to fit a wagonette body, with removable top and luggage rail, and also to carry "7 cwt. to 10 owt." Usually, when one takes in the weight of the body, the weight of the driver and an occasional friend,. a 10-cwt. load involves an imposed load on the chassis of anything up to 16 cwt. Such a load is too much for a Ford chassis in commercial service.
Hiring Business and Rates for a Van to Carry 10-cwt. to 15-cwt. Loads.
[2274] (Stores).—Our free sheet of working casts may help you, and you should see as nearly as possible-double the figure per mile, reckoning both light and loaded mileage together, that is shown as the working cost for a man who provides his own loads. Of course, there is a profit if you only see 60 per cent. extra, but not an ample margin for a contractor. With a van of the type which you mention, if you are working on an hourly basis, you should earn certainly not. less than 3s. 64-1. an hour, but do not go on a mileage basis if you are likely to travel more than seven miles in that time. It is a rrood plait to try to get regular work by way of contract.
Wants a Van for Laundry Rounds.
[2275] (Westcliff).—We have mailed one of our free standard sheets of working costs. A large-capacity tilt van is the best for the conveyance of laundry, and if—as you state—you are satisfied that your load requirements will not exceed 12 cwt., vans by the following makers should be considered :— Arrol-Johnston Ltd., Dumfries. Austin Motor 'Co., Ltd., Northfield, Birmingham.
Belsize Motors, Ltd., Clayton, ,Manchester. D. Nanier and Son, Ltd., 14, New-Burlington Street, London, W.
R. G. Motors, Ltd., Upper Street, Islington, N. Palladium Autocars, Ltd., Norman Road, Fulham, Sunbeam Motor Car Co., Ltd.. Coventry. Straker-Sauire (1913), Ltd., Nelson Square, Blackfria,rs, S.E.
Scout Motors. Ltd., Salisbury. The Ford van will not carry a load of 10 cwt. or 12 cwt. of goods in addition to the weight of the body. driver, and an occasional friend, at a commercial rate.
A62 For Enrolment in the A.S.C., M.T.
[2276] (Patriot).—If you wish to enrol yourself as a driver in a branch of the A.S.C., M.T., you should apply to the nearest recruiting station. One condition, however, with which you must comply, is that you must be in a position to produce proof of two years actual driving experience. We think that you would probably pass upon producing the evidence of your experience which you mention,
Head-.on Collision 'in a Fog..
[2277] (Char-a-bancs).—This case is surely one for which you are covered by insurance? Any collision on the road is a question of fact, and the facts cannot be settled other than by arbitration .or by legal proceedings. You had every right to overtake the slow horse-drawn cart, and thus to be well to the right-hand side of the road, according to the Highway Act. From what you tell us, it would appear that the driver of the light car was driving very quickly. There is no uniform legal ruling in such cases.
Roadside Shelter and Supplies.
[2278] (Messages).—Your requirements will be met if you purchase the handbook which is issued by the Commercial Motor Users Association. You can obtain this by posting le. 2d. to Mr. F., G. Bristow, 83, Pall Mall, S.W., to cover cost and postage. This book, which is issued by the authority of the C.M.U.A." gives details of roadside supply depots on the following roads : London to Margate; Landon to Folkestone ; London to Portsmouth ; London to Bournemouth; London to Bath, Bristol and Westonsuper-Mare ; London to Gloucester ; London to Shrewsbury, Liverpool, Manchester and Lancashire towns ; 'London to Derby and Nottingham : London to Newcastle-on-Tyne (and branches). We understand that a new edition will be issued at the beginning of next year. The book also contains interesting legal notes, and notes upon traffic rules and regulations. It is well worth the money. The location of accommodation in each of the towns on the routes which are named is indicated on clearly-drawn plans.
Committee on Congestion in Ports.
[2279] (Scheme).—The Advisory Committee to the President of the Board of Trade, which was appointed at the end of January to consider and recommend, for adoption by various. dock authorities, either separately or in co-operation, measures which are designed to remove or diminish congestion, and to improve the methods of dealing with the traffic of the ports of this country in the public.interest, are:— Lord Inchcape, K.C.S.I., K.C.I.E. (Chair, man), Lord Devonport, Mr. J. G. Broodbank and Mr. H. T. Moore (London), Sir Helenus R. Robertson and Mr. Alfred Chandler (Liverpool), Sir H. A. Walker (Southampton), Sir Sam Fay (Immingham), Mr. E. C. Geddes (Hull), Mr. W. J. Noble (Newcastle-upon-Tyne), Mr. P. J. Pringle (Leith), Mr. S. Hannay Thompson (Dundee), Mr. D. Shields (alasgow), Mr. Ernest Latimer (Manchester), Mr. C. S. Denniss (Cardiff), and Mr. D. Ross Johnson (Bristol). The Secretary of the Committee is Sir Frederick G. Dumayne, and he may be addressed at the Board of Trade, Whitehall Gardens, S.W. The outcome of the deliberations of this committee will probably be first of all communicated to the constituent dock and other authorities, and we hope the results will be positive.
Tags
People
:
D. Shields
,
H. A. Walker (Southampton)
,
Alfred Chandler
,
Sam Fay (Immingham)
,
Ernest Latimer
,
E. C. Geddes
,
Helenus R. Robertson
,
James Bartle
,
Frederick G. Dumayne
,
G. Bristow
,
J. G. Broodbank
,
S. Hannay Thompson (Dundee)
,
D. Ross Johnson
,
W. J. Noble
,
P. J. Pringle (Leith)
,
H. T. Moore
,
C. S. Denniss
Locations
:
Manchester
,
Lancashire
,
Cardiff
,
Portsmouth
,
Bournemouth
,
Coventry
,
Nottingham
,
London
,
Austin
,
Birmingham
,
Shrewsbury
,
Bath
,
Margate
,
Derby
,
Liverpool
,
Bristol
,
Westonsuper-Mare
,
Gloucester
,
Newcastle