Snow and Motor Sweepers.
4th March 1915
Page 16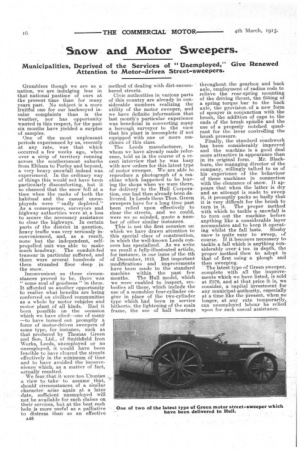 Page 16, 4th March 1915 —
Snow and Motor Sweepers.
Close
Municipalities, Deprived of the Services of " Unemployed," Give Renewed Attention to Motor-driven Street.-sweepers.
Grumblers though we are as a nation, we are indulging less in that national pastime of ours at the present time than for many years past. No subject is a more fruitful one for our hackneyed insular complaints than is the weather, nor has opportunity wanted in this respect, for the past six months have yielded a surplus of samples.
One of the most unpleasant periods experienced by us, recently at any rate, was that which occurred a few weeks ago, when over a strip of territory running across the southernmost suburbs from Eltham to Purley and beyond, a very heavy snowfall indeed was experienced. In the ordinary way of things this would not have been particularly discomforting, but it so chanced that the snow fell at a time when the ranks of both the habitual and the casual unemployeds were "sadly depleted." As a consequence, surveyors and highway authorities were at a loss to secure the necessary assistance to clear the highways. In certain parts of the district in question, heavy traffic was very seriously inconvenienced, and, as a result, none but the independent, selfpropelled unit was able to make much headway. The conduit-fed tramcar in particular suffered, and there were several hundreds of them stranded floor deep ,in the snow.
Inconvenient as these circumstances proved to be, there was "some soul of goodness" in them. It afforded us another opportunity to realize what benefits are being conferred on civilized 'communities as a whole by motor vehicles and motor plant of all kinds. Had it been possible on the occasion which we have cited—one of many —to have turned out promptly a force of motor-driven sweepers of some type, for instance, such as that produced by Thomas Green and Son, Ltd., of Smithfield Iron Works, Leeds, unemployed or no unemployed, it -would have been feasible to have cleared the streets effectively in the minimum of time and to have avoided the inconvenience which, as a matter of fact, actually resulted.
We fear. that it were too IT,topian a view to take to assume that, shouldcircumstances of a similar character arise again at a later date, sufficient unemployed will not be available for such claims on their services, but at the best such help is more useful as a palliative to distress than as an effective
A48 method of dealing with dirt-encumbered streets.
Civic authorities in various parts of this country are already in considerable numbers realizing the utility of the motor sweeper, and we have definite information that last month's particular experience was beneficial in converting many a borough surveyor to the view that his plant is incomplete if not equipped with one or more machines of this class.
The Leeds manufacturer, to whom we have already made reference, told us in the course of a recent interview that he was busy with new orders for this latest type of motor sweeper. We are able to reproduce a photograph of a machine which happened to be leaving the shops when we were there, for delivery to the Hull Corporation, one had then alrea,dy.been delivered. In Leeds these Thos. Green sweepers have for a long time past been relied upon effectively to clear the streets, and we could, were we so minded, Quote a number of other similar instances.
This is not the first occasion on which we have drawn attention to this special class of construction, in which the well-known Leeds concern has specialized. As we write we recall a fully-illustrated article, for instance, in our issue of the 4th of December, 1911 But important modifications and improvements have been made to the standard machine within the past few months. The Hull model, which we were enabled to inspect, embodies all these, which include the use of a monobloc four-cylinder engine in place of the two-cylinder type which had been in service hitherto, the lightening of the main frame, the use of ball bearings throughout .the gearbox and back axle, employment of radius reds to relieve the rear-spring mounting of the driving thrust, the fitting of a spring torque bar to the back axle, the provision, of a new form of sprayer in conjunction with the brush, the addition of caps to the ends of the brush spindle and the use of a properly notched quadrant for the lever controlling the brush pressure.
Finally, the standard coachwork has been considerably improved and the machine is a good deal more attractive in appearance than in its original form. Mr. Blackburn, the managing director of the company, willingly talked to us of his experience of the behaviour of these machines in connection with the clearance of snow. It appears that when the latter is dry and an attempt is made to sweep it, it promptly packs so badly that it is very difficult for the brush to turn in it. The proper method with which to tackle a snowfall is to turn out the machine before anything like a considerable layer accumulates and to keep it operat
ing whilst the fall lasts. Slushy snow is quite easy to sweep, of course. If it becomes necessary to tackle a fall which is anything considerably over 4 ins, in depth, the proper method then to adopt is that of first using' a plough and then sweeping. The latest type of Green sweeper, complete with all the improvements which we have listed, is sold at ,MO, and at that price it is, we consider, a 'capital investment for any municipal authority, especially at a time like the present, when no longer, at any rate temporarily, can unemployed labour be relied upon for such casual assistance.