Munro Transport holds its fire
4th January 1996
Page 6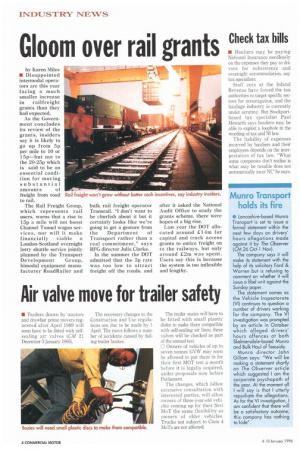 Page 6, 4th January 1996 —
Munro Transport holds its fire
Close
• Lancashire-based Munro Transport is set to issue a formal statement within the next few days on drivers' hours allegations made against it by The Observer (CM 26 Oct-1 Nov).
The company says it will make its statement with the help of its solicitors Ford & Warren but is refusing to comment on whether it will issue a libel writ against the Sunday paper.
The statement comes as the Vehicle Inspectorate (VI) continues to question a number of drivers working for the company. The VI investigation was prompted by an article in October which alleged drivers' hours offences at both Skelmersdale-based Munro and Bulk Haul of Teesside.
Munro director John Gillam says: "We will be making a statement shortly on The Observer article which suggested I am the corporate psychopath of the year. At the moment all I will say is that I utterly repudiate the allegations. As for the VI investigation, I am confident that there will be a satisfactory outcome; this company has nothing to hide".