Hauliers face new rules for new year
4th January 1996
Page 5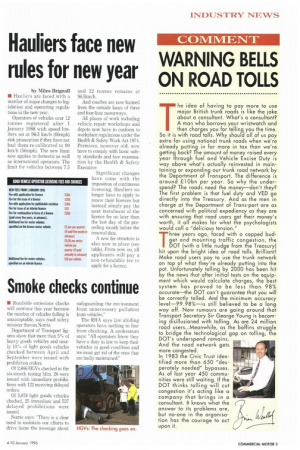 Page 5, 4th January 1996 —
Hauliers face new rules for new year
Close
by Miles Brignall • Hauliers are faced with a number of major changes to legislation and operating regulations in the new year.
Operators of vehicles over 12 tonnes registered after 1 January 1988 with speed limiters set at 96.5 km/h (60mph) risk prosecution if they have not had them re-calibrated to 90 km/h (56mph). The new limit now applies to domestic as well as international operators. The limit for vehicles between 7.5
and 12 tonnes remains at 96.5km/h.
And coaches are now banned from the outside lanes of three and four-lane motorways.
All places of work including vehicle repair workshops and depots now have to conform to workplace regulations under the Health & Safety Work Act 1974. Premises, however old, now have to comply with basic safety standards and face examination by the Health & Safety Executive.
Significant changes have come with the imposition of continuous licensing. Hauliers no longer have to apply to renew their licences but instead simply pay the next instalment of the licence fee no later than the last day of the preceding month before the renewal date.
A new fee structure is also now in place (see table). From now on, all applicants will pay a non-refundable fee to apply for a licence.