Police hunt murder Merc
4th January 1996
Page 4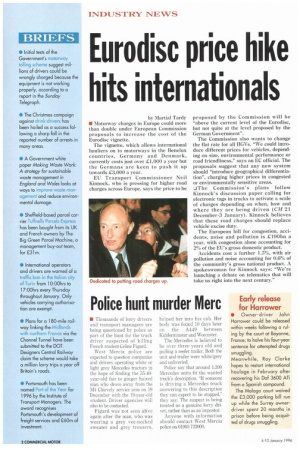 Page 4, 4th January 1996 —
Police hunt murder Merc
Close
• Thousands of lorry drivers and transport managers are being questioned by police as part of the hunt for the truck driver suspected of killing French student Celine Figard.
West Mercia police are expected to question companies and drivers operating white or light grey Mercedes tractors in the hope of finding the 35-40year-old fair to ginger haired man who drove away from the M4 Chievely service area on 19 December with the 19-year-old student. Driver agencies will also to be contacted.
Figard was not seen alive again after the man, who was wearing a grey vee-necked sweater and grey trousers, helped her into his cab. Her body was found 10 days later on the A449 between Kidderminster and Worcester.
The Mercedes is believed to be over three years old and pulling a reefer trailer. Both the unit and trailer were white/grey and unliveried.
Police say that around 1,200 Mercedes units fit the wanted truck's description. If someone is driving a Mercedes truck answering to this description they can expect to be stopped," they say. The suspect is being treated as a genuine lorry driver, rather than as an impostor.
Anyone with information should contact West Mercia police on 01905 723000.