Eurodisc price hike hits internationals
4th January 1996
Page 4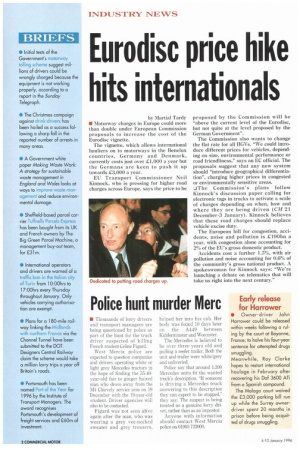 Page 4, 4th January 1996 —
Eurodisc price hike hits internationals
Close
by Martial Tardy • Motorway charges in Europe could more than double under European Commission proposals to increase the cost of the Eurodisc vignette.
The vignette, which allows international hauliers on to motorways in the Benelux countries, Germany and Denmark, currently costs just over £1,000 a year but the Germans are keen to push it up towards £3,000 a year.
EU Transport Commissioner Neil Kinnock, who is pressing for higher road charges across Europe, says the price to be proposed by the Commission will be "above the current level of the Eurodisc, but not quite at the level proposed by the German Government".
The Commission also wants to change the flat rate for all HGVs. "We could introduce different prices for vehicles, depending on size, environmental performance or road friendliness," says an EC official. The proposals suggest that any new system should "introduce geographical differentiation", charging higher prices in congested or environmentally sensitive areas.
1..1The Commission's plans follow Kinnock's discussion paper calling for electronic tags in trucks to activate a scale of charges depending on when, how and where they are being driven (CM 21 December-3 January). Kinnock believes that these road charges should replace vehicle excise duty.
The European bill for congestion, accidents, noise and pollution is £190bn a year, with congestion alone accounting for 2% of the EU's gross domestic product.
Accidents cost a further 1.5%, with air pollution and noise accounting for 0.6% of the community's gross national product. A spokeswoman for Kinnock says: "We're launching a debate on telematics that will take us right into the next century."