Small cheer
4th January 1996
Page 33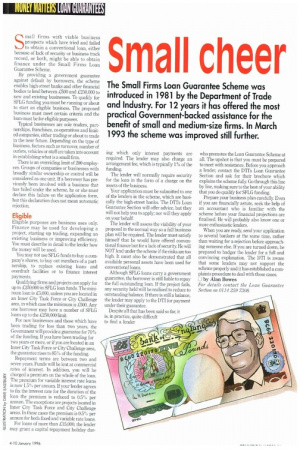 Page 33, 4th January 1996 —
Small cheer
Close
Keywords :
Debt
,
Credit
,
Finance
,
Economy Of The United Kingdom
,
Small Firms Loan Guarantee
,
Loan
,
Interest Rate
,
Interest
,
Enterprise Finance Guarantee
,
Mortgage Loan
,
Business / Finance
Small firms with viable business prospects which have tried and failed to obtain a conventional loan, either because of lack of security or business track record, or both, might be able to obtain finance under the Small Firms Loan Guarantee Scheme.
By providing a government guarantee against default by borrowers, the scheme enables high-street banks and other financial bodies to lend between £500 and £250,000 to new and existing businesses. To qualify for SFLG funding you must be running or about to start an eligible business. The proposed business must meet certain criteria and the loan must be for eligible purposes.
Typical businesses are sole traders, partnerships, franchises, co-operatives and limited companies, either trading or about to trade in the near future. Depending on the type of business, factors such as turnover, number of outlets, vehicles or staff are taken into account in establishing what is a small firm.
There is an overriding limit of 200 employees. Groups of companies or businesses with broadly similar ownership or control will be considered as one unit. If a borrower has previously been involved with a business that has failed under the scheme, he or she must declare this failure on the application form, hut this declaration does not mean automatic rejection.
Eligible
Eligible purposes are business uses only. Finance may be used for developing a project, starting up trading, expanding an existing business or improving efficiency. You must describe in detail to the lender how the money will be used.
You may not use SFLG funds to buy a company's shares, to buy out members of a partnership, to replace existing loans and overdraft facilities or to finance interest payments.
Qualifying firms and projects can apply for up to £250,000 in SFLG loan funds. The minimum loan is £5,000, unless you are located in an Inner City Task Force or City Challenge area, in which case the minimum is £500. Any one borrower may have a number of SFLG loans up to the £250,000 limit.
For new businesses and those which have been trading for less than two years, the Government will provide a guarantee for 70% of the funding. If you have been trading for two years or more, or if you are located in an Inner City Task Force or City Challenge area, the guarantee rises to 85% of the funding.
Repayment terms are between two and seven years. Funds will be lent at commercial rates of interest. In addition, you will be charged a premium on the whole of the loan. The premium for variable interest rate loans is now 1.5% per annum. If your lender agrees to fix the interest rate for the duration of the loan the premium is reduced to 0.5% per annum. The exceptions are projects located in Inner City Task Force and City Challenge areas. In these cases the premium is 0.5% per annum for both fixed and variable rate loans.
For loans of more than £15,000, the lender may grant a capital repayment holiday dur ing which only interest payments are required. The lender may also charge an arrangement fee, which is typically 1% of the funding.
The lender will normally require security for the loan in the form of a charge on the assets of the business.
Your application must be submitted to one of the lenders in the scheme, which are basically the high-street banks. The DTI's Loan Guarantee Section will offer advice, but they will not help you to apply; nor will they apply on your behalf.
The lender will assess the viability of your proposal in the normal way so a full business plan will be required. The lender must satisfy himself that he would have offered conventional finance but for a lack of security. He will NOT lend under the scheme if the risks are too high. It must also be demonstrated that all available personal assets have been used for conventional loans.
Although SFLG loans carry a government guarantee, the borrower is still liable to repay the full outstanding loan. If the project fails, any security held will be realised to reduce to outstanding balance. If there is still a balance, the lender may apply to the DTI for payment under their guarantee.
Despite all that has been said so far, it is, in practice, quite difficult
who promotes the Loan Guarantee Scheme at all. The upshot is that you must be prepared to meet with resistance. Before you approach a lender, contact the DTI's Loan Guarantee Section and ask for their brochure which explains the scheme fully. Go through this line by line, making sure to the best of your ability that you do qualify for SFLG funding.
Prepare your business plan carefully. Even if you are financially astute, seek the help of an accountant who is familiar with the scheme before your financial projections are finalised. He will probably also know one or more enthusiastic lenders.
When you are ready, send your application to several bankers at the same time, rather than waiting for a rejection before approaching someone else. If you are turned down, be prepared to badger the lender for a full and convincing explanation. The DTI is aware that some lenders may not support the scheme properly and it has established a complaints procedure to deal with those cases.
0 by Alan Bowes For details contact the Loan Guarantee Section on 0114 259 7308.