THE AN ROAD AD
4th January 1996
Page 30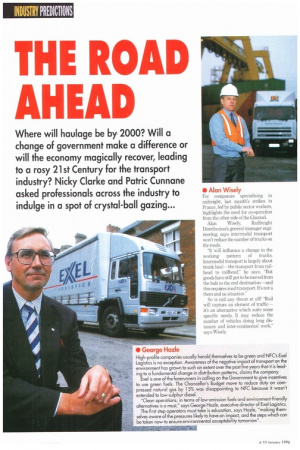 Page 31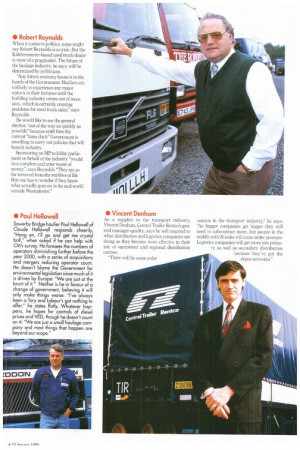 Page 32
Page 30, 4th January 1996 —
THE AN ROAD AD
Close
• Alan Wisely
For companies specialising in raifreight, last month's strikes in France, led by public sector workers, highlights the need for co-operation from the other side of the Channel.
Alan Wisely Railfreight Distribution's general manager engineering, says intermodal transport won't reduce the number of trucks on the roads.
"It will influence a change in the working pattern of trucks. Intermodal transport is largely about trunk haul—the transport from railhead to railhead," he says. Tut goods have still got to be moved from the hub to the end destination—and this requires road transport. It's not a them and us situation."
So is rail any threat at all? "Rail will capture an element of traffic— it's an alternative which suits some specific needs. It may reduce the number of vehicles doing long distances and inter-continental work," says Wisely.
• Robert Reynolds
When it comes to politics, some might say Robert Reynolds is a cynic. But the Kidderminster-based used truck dealer is more of a pragmatist. The future of the haulage industry, he says, will be determined by politicians.
"Any future economy boom is in the hands of the Government. Hauliers are unlikely to experience any major upturn in their fortunes until the building industry comes out of recession...which is certainly creating problems for used truck sales," says Reynolds.
He would like to see the general election "out of the way as quickly as possible" because until then the current "lame duck" Government is unwilling to carry out policies that will benefit industry: Sponsoring an la to lobby parliament on behalf of the industry "would be a complete and utter waste of money", says Reynolds "They are so far removed from the realities of life that one has to wonder if they know what actually goes on in the real world outside Westminster."
• Paul Hellowell
Sowerby Bridge haulier Paul Hellowell of Claude Hellowell responds cheerily, "Hang on, I'll go and get me crystal ball," when asked if he can help with CM'S survey. He Foresees the numbers of operators diminishing further before the year 2000, with a series of acquisitions and mergers reducing operator count. He doesn't blame the Government For environmental legislation since much of it is driven by Europe: 'We are just at the brunt of it." Neither is he in favour of a change of government, believing it will only make things worse: "I've always been a Tory and Labour's got nothing to offer," he states flatly. Whatever happens, he hopes for controls of diesel prices and VED, though he doesn't count on it: 'We are just a small haulage company and most things that happen are beyond our scope."
• Vincent Denham
As a supplier to the transport industry, Vincent Denham, Central Trailer Rentco's general manager-quality, says he will respond to what distribution and logistics companies are doing as they become more effective in their use of equipment and regional distribution centres.
"There will be some polar -isation in the transport industry," he says. "As bigger companies get bigger they will need to subcontract more...but people in the middle with 20 units will come under pressure. Logistics companies will get more into prima ry as well as secondary distribution because they've got the depot networks."
• Peter Carter
Norfolk haulier Peter Carter believes the next few years will see many medium-sized operators with 30-40 vehicles swallowed up by larger operators. But smaller, specialist outfits will survive. He counts his seven-vehicle operation in this latter category and has been extremely busy in the run up to Christmas hauling fresh produce— potatoes and carrots—from his depot near King's Lynn. He doesn't fear the effect of future environmental laws, since he believes that while ordinary traffic will be targeted for restraint. hauliers will escape relatively lightly: "There's not much more they can do because we are the backbone of the country," he says. "If we stop, everything stops." Carter foresees no improvement in the economy until after the election, which he predicts will stimulate a return to confidence, no matter who is elected. The priorities for haulage are clear: "We need the road building programme brought back on stream and there must be subsidies for diesel used by hauliers."
• Neil Williams
By contrast Scottish tipperman David Williams of Neil Williams in Da Ikeith, Edinburgh has enjoyed a mini-boom recently in local construction projects. That doesn't quell doubts about the future but he believes the squeeze will hit cowboy operators hardest, with reputable small companies surviving. The new landfill tax is a cloud on the horizon. "Most green policies are about collecting money" he says, Some loads that cost LSO to shift will rise to £200 next year." This, he reckons, will have the effect of dampening development projects. He believes the economy will heal, given time, because "everything comes full circle" and a Labour Government that released council house rent receipts for new building projects would benefit tipping operators generally: "Even if your firm doesn't get the job, it takes the pressure off because someone else is being kept busy" A reduction in fuel duty is his major demand of a future government, whatever colour it is. The industry, he says, should speak with one voice, should consider, perhaps, sponsoring its own MP: "We are simply not heard."