VANS
4th January 1996
Page 26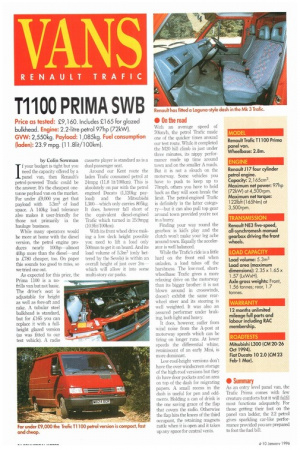 Page 26, 4th January 1996 —
VANS
Close
RENAULT TRAFIC
11100 PRIMA SWB
Price as tested: £9,160. Includes £165 for glazed bulkhead. Engine: 2.2-litre petrol 97hp (72kW). GVW: 2,550kg. Payload: 1,085kg. Fuel consumption (laden): 23.9 mpg. (11.81it/100km).
by Colin Sowman
If your budget is tight but you need the capacity offered by a panel van, then Renault's petrol-powered Trafic could be the answer. It's the cheapest onetonne payload van on the market. For tinder £9,000 you get that payload with 5.3m3 of load space. A 140kg load tolerance also makes it user-friendly for those not primarily in the haulage business.
While many operators would be more at home with the diesel version, the petrol engine produces nearly 100hp—almost 40hp more than the diesel—and is £780 cheaper, too. On paper this sounds too good to miss, so we tried one out.
As expected for this price, the Prima 1100 is a nofrills van but not basic. The driver's seat is adjustable for height as well as fore-aft and rake. A tubular steel bulkhead is standard, but for £165 you can replace it with a fullheight glazed version (as was fitted to our test vehicle). A radio
cassette player is standard as is a dual passenger seat.
Around our Kent route the laden Trafic consumed petrol at 24mpg (11.8 lit/100km). This is absolutely on par with the petrol engined Ducato (1,120kg payload) and the Mitsubishi L300—which only carries 805kg:. It does, however fall short of the equivalent diesel-engined Trafic which turned in 25.9mpg (10.91it/100km).
With its front wheel drive making a low deck height possible you need to lift a load only 500mm to get it on board. And its load volume of 5.3m3 (only bettered by the Sevels) is within an overall height of just over 2m which will allow it into some multi-story car parka
With an average speed of 70km/h, the petrol Trafic made one of the quicker times around our test route. While it completed the M20 hill climb in just under three minutes, its nippy performance made up time around town and on the smaller A roads. But it is not a slouch on the motonvay. Some vehicles you have to push to keep up to 70mph, others you have to hold back as they will soon break the limit. The petrol-engined Trafic is definitely in the latter category—but it can also pull top gear around town provided you're not in a hurry Finding your way round the gearbox is kid's play and the clutch won't make your leg ache around town. Equally the accelerator is well balanced.
While the Trafic's ride is a little hard on the front end when unladen, a load takes off the harshness. The low-roof, shortwheelbase Trafic gives a more relaxing drive on the motorway than its bigger brother: it is not blown around in crosswinds, doesn't exhibit the same rearwheel steer and its steering is well weighted. It was also an assured performer under braking, both light and heavy.
It does, however, suffer from wind noise from the A-post at motorway speeds which can be tiring on longer runs. At lower speeds the differential whine, reminiscent of an early Mini, is more dominant.
Low-roof-height versions don't have the over-windscreen storage of the high-roof versions but they do have door pockets and an area on top of the dash for migrating papers. A small recess in the dash is useful for pen and oddments. Holding a can of drink is the one saving grace of the flap that covers the radio. Otherwise the flap hits the knees of the third occupant, the retaining magnets rattle when it is open and it takes up any space for central vents.