ROADTEST
4th January 1996
Page 24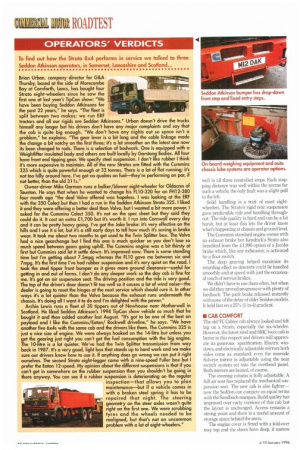 Page 25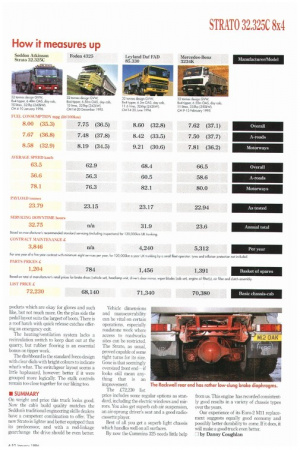 Page 24, 4th January 1996 —
ROADTEST
Close
OPERATORS' VERDICTS
Brian Urban, company director for G&A Thursby, based at the side of Morecambe Bay at Carnforth, Lancs, has bought four Strato eight-wheelers since he saw the first one at last year's TipCon show: "We have been buying Seddon Atkinsons for the past 22 years," he says. "The fleet is split between two makes; we run ERF tractors and all our rigids are Seddon Atkinsons." Urban doesn't drive the trucks himself any longer but his drivers don't have any major complaints and say that the cab is quite big enough. "We don't have any nights out so space isn't a problem," he explains. "The gear lever is a bit long and the cable linkage made the change a bit notchy on the first three; it's a lot smoother on the latest one now its been changed to rods. There is a selection of bodwork. One is equipped with a Weightlifter insulated body and others are built locally by Garstang Bodies. All four have front end tipping gear. We specify steel suspension. I don't like rubber I think it's more expensive to maintain. All of the new Stratos are fitted with the Cummins 325 which is quite powerful enough at 32 tonnes. There is a lot of flat running; it's not too hilly around here. I've got no qualms on fuel—they're performing on par, if not better, than the old 311s."
Owner-driver Mike Gorman runs a bulker/blower eight-wheeler for Oldacres of Taunton. He says that when he wanted to change his FL10-320 for an FH12-380 four month ago "the deal Volvo offered was hopeless. I was looking at the ERF with the 350 Celect but then I had a run in the Seddon Atkinson Strata 325. I liked it and they were offering a better deal than Volvo, but I wanted a bit more power. I asked for the Cummins Celect 350. It's not on the spec sheet but they said they could do it. It cost an extra £1,700 but it's worth it. I run into Cornwall every day and it can be pretty heavy going. I've got the Jake brake: it's very effective on the hills and I use it a lot, but it's a still early days to tell how much it's saving in brake wear. It took me about two months to get used to the Twin Splitter box. The Volvo had a nice gearchange but I find this one is much quicker so you don't lose so much speed between gears going uphill. The Cummins engine was a bit thirsty at first but Cummins said let it settle down. It's improved now. There is some standing time but I'm getting about 7.5mpg whereas the FL10 gave me between six and 7mpg. It's the first time I've had rubber suspension and it's very quiet on the road. I took the steel tipper front bumper as it gives more ground clearance—useful for getting in and out of farms. I don't do any sleeper work so the day cab is fine for me. It's got an air suspension seat. The driving position and the ride is very good. The top of the driver's door doesn't fit too well so it causes a lot of wind noise—the dealer is going to reset the hinges at the next service which should cure it. In other ways it's a lot quieter than the Volvo because the exhaust runs underneath the chassis. It's doing all I want it to do and I'm delighted with the power."
Archie Lewis runs a fleet of 30 tippers out of Newhouse near Motherwell in Scotland. He liked Seddon Atkinson's 1994 TipCon show vehicle so much that he bought it and then added another last August. "It's got to be one of the best on payload and I like the Cummins/Eaton/ Rockwell driveline," he says. "We have another five 6x4s with the same cab and the drivers like them. The Cummins 325 is just a nice size of engine. We were always hooked on the 14-litre but unless you get the gearing just right you can't get the fuel consumption with the big engine. The 10-litre is a lot quieter. We've had the Twin Splitter transmission from way back in 1987. It's a very good, light box that stands up to hard work and we make sure our drivers know how to use it. If anything does go wrong we can put it right ourselves. The second Strato eight-legger came with a nine-speed Fuller box but I prefer the Eaton 12-speed. My opinion about the different suspensions is that if you can't get in somewhere on the rubber suspension then you shouldn't be going in there anyway. You can see if a rubber suspension is deteriorating on the regular inspection—that allows you to plan maintenance—but if a vehicle comes in with a broken steel spring it has to be repaired that night. The steering geometry on the steer axles wasn't quite right on the first one. We were scrubbing tyres and the wheels needed to be realigned, but that's not an uncommon problem with a lot of eight-wheelers."
well in all three controlled stops. Each stopping distance was well within the norms for such a vehicle; the only fault was a slight pull to the left.
Solid handling is a trait of most eightwheelers. The Strato's rigid rear suspension gave predictable ride and handling throughout. The ride quality is hard and can be a bit harsh, but at least this lets the driver know what's happening at chassis and ground level.
The Cummins standard engine comes with an exhaust brake but Kendrick's Strato also benefited from the £1,996 option of a Jacobs brake which, like any exhauster, is activated by a floor switch.
The deep gearing helped maximise its retarding effect so descents could be handled smoothly and at speed with just the occasional touch of service brakes.
We didn't have to use them often, but when we did they proved progressive with plenty of feedback. The park brake released instantly with none of the delay of older Seddon models. It held fast on a 25% (1-in-4) gradient.
• CAB COMFORT The old TC Cabtec cab always looked and felt big on a Strato, especially the six-wheeler. However, the latest steel and SMC lveco cab is better in this respect and drivers will appreciate its generous specification. Electric windows, and electrically adjustable mirrors both sides come as standard; even the nearside fish-eye mirror is adjustable using the neat switch system set into the overhead panel. Both mirrors are heated, of course.
The steering column is fully adjustable. A full air seat has replaced the mechanical suspension seat. The new cab is also lighter— now the Seddon can compete on equal terms with the Sandbach marques. Build quality has improved over early versions of this cab but the layout is unchanged. Access remains a strong point and there is a useful amount of storage space behind the seats.
The engine cover is fitted with a fold-over tray top and the doors have deep, if narrow pockets which are okay for gloves and such like, but not much more. On the plus side the pedal layout suits the largest of boots. There is a roof hatch with quick release catches offering an emergency exit The heating/ventilation system lacks a recirculation switch to keep dust out at the quarry, but rubber flooring is an essential bonus on tipper work.
The dashboard is the standard Iveco design with clear dials with bright colours to indicate what's what. The switchgear layout seems a little haphazard, however: better if it were grouped more logically The stalk controls remain too close together for our liking too.
• SUMMARY
On weight and price this truck looks good. Now the cab's build quality matches the Seddon's traditional engineering skills dealers have a competent combination to offer. The new Strato is lighter and better equipped than its predecessor, and with a rod-linkage gearchange the drive should be even better. Vehicle dimensions and manoeuvrability can be vital on certain operations, especially roadstone work where access to roadworks sites can be restricted. The Strato, as usual, proved capable of some tight turns for its size. Gone is that seemingly oversized front end-if looks still mean anything that is an improvement.
The 02,230 list price includes some regular options as standard, including the electric windows and mirrors. You also get superb cab air suspension, an air-sprung driver's seat and a good radiocassette player.
Best of all you get a superb light chassis which handles well on all surfaces.
By now the Cummins 325 needs little help from us. This engine has recorded consistently good results in a variety of chassis types over the years.
Our experience of its Euro-2 Mil replacement suggests equally good economy and possibly better durability to come. If it does, it will make a good truck even better.
rl by Danny Coughlan