112111. 211 1 2 ROADTEST
4th January 1996
Page 22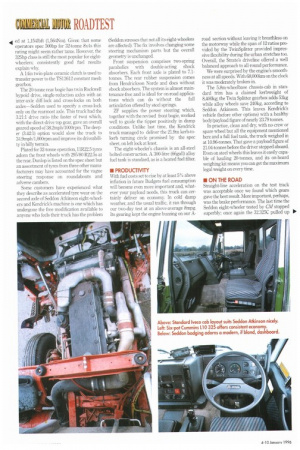 Page 22, 4th January 1996 —
112111. 211 1 2 ROADTEST
Close
ed at 1,1541bft (1,564Nm). Given that some operators spec 500hp for 32-tonne 8x4s this rating might seem rather tame. However, the 325hp class is still the most popular for eight. wheelers; consistently good fuel results explain why.
A 14in twin-plate ceramic clutch is used to transfer power to the TS12612 constant mesh gearbox.
The 20-tonne rear bogie has twin Rockwell hypoid drive, single-reduction axles with an inter-axle diff-lock and cross-locks on both axles—Seddon used to specify a cross-lock only on the rearmost axle. This truck had the 3.21:1 drive ratio (the faster of two which, with the direct-drive top gear, gave an overall geared speed of 38.2mph11000rpm. The deeper (3.42:1) option would slow the truck to 34.9mph/1,000rpm and improve its driveabil ty in hilly terrain.
Plated for 32-tonne operation, 11R22.5 tyres adorn the front wheels with 295/80 R22.5s at the rear. Dunlop is listed on the spec sheet but an assortment of tyres from three other manufacturers may have accounted for the vague steering response on roundabouts and adverse cambers.
Some customers have experienced what they describe as accelerated tyre wear on the second axle of Seddon Atkinson eight-wheelers and Kendrick's machine is one which has undergone the free modification available to anyone who feels their truck has the problem (Seddon stresses that not all its eight-wheelers are affected). The fix involves changing some steering mechanism parts but the overall geometry is unchanged.
Front suspension comprises two-spring parabolics with double-acting shock absorbers. Each front axle is plated to 7.1tonnes. The rear rubber suspension comes from Hendrickson Norde and does without shock absorbers. The system is almost maintenance-free and is ideal for on-road applications which can do without the full articulation offered by steel springs.
ZF supplies the power steering which, together with the revised front bogie, worked well to guide the tipper positively in damp conditions. Unlike last time, the Kendrick truck managed to deliver the 21.9m kerb-tokerb turning circle promised by the spec sheet, on left lock at least.
The eight-wheeler's chassis is an all-steel bolted construction. A 300-litre (66gall) alloy fuel tank is standard, as is a heated fuel filter.
• PRODUCTIVITY With fuel costs set to rise by at least 5% above inflation in future Budgets fuel consumption will become even more important and, whatever your payload needs, this truck can certainly deliver on economy In cold damp weather, and the usual traffic, it ran through our two-day test at an above-average 8mpg. Its gearing kept the engine buzzing on our A road section without leaving it breathless on the motorway while the span of 12 ratios provided by the TwinSplitter provided impressive flexibility during the urban stretches too. Overall, the Strato's driveline offered a well balanced approach to all-round performance.
We were surprised by the engine's smoothness at all speeds. With 68,000km on the clock it was moderately broken-in.
The 5.8m-wheelbase chassis-cab in standard trim has a claimed kerbweight of 8,400kg; the Twin Splitter gearbox adds 53kg while alloy wheels save 240kg, according to Seddon Atkinson. This leaves Kendrick's vehicle (before other options) with a healthy body/payload figure of nearly 23.79 tonnes In practice, clean and dry, with no crew or spare wheel but all the equipment mentioned here and a full fuel tank, the truck weighed in at 10.96-tonnes. That gave a payload figure of 21.04-tonnes before the driver stepped aboard. Even on steel wheels this leaves it easily capable of hauling 20-tonnes, and its on-board weighing kit means you can get the maximum legal weight on every time.
• ON THE ROAD Straight-line acceleration on the test track was acceptable once we found which gears gave the best result. More important, perhaps, was the brake performance. The last time the Seddon eight-wheeler tested by CM stopped superbly; once again the 32.325C pulled up ■