0 t's not often that the Hawk gets to help
4th January 1996
Page 16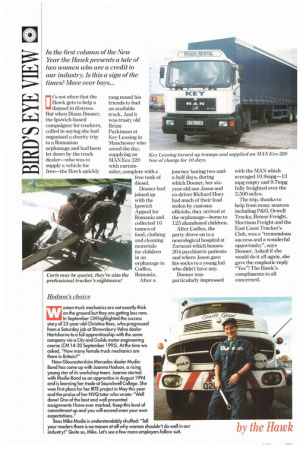 Page 17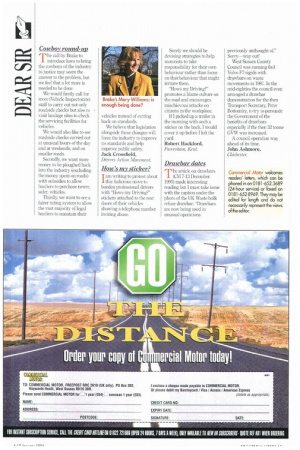 Page 16, 4th January 1996 —
0 t's not often that the Hawk gets to help
Close
a damsel in distress. But when Diana Dooner, the Ipswich-based campaigner for truckers, called in saying she had organised a charity trip to a Romanian orphanage and had been let down by the truck dealer—who was to supply a vehicle for free—the Hawk quickly momen truck mechanics are not exactly thick on the ground but they are getting less rare. In September CM highlighted the success story of 23-year-old Christine Rees, who progressed from a Saturday job at Shrewsbury Volvo dealer Hartshorne to a full apprenticeship with the same company via a City and Guilds motor engineering course (CM 14-20 September 1995). At the time we asked, "How many female truck mechanics are there in Britain?"
Now Gloucestershire Mercedes dealer MudieBond has come up with Joanna Hodson, a rising young star of its workshop team. Joanna started with Mudie-Bond as an apprentice in August 1994 and is learning her trade at Soundwell College. She won first place for her IRTE project in May this year and the praise of her NVO tutor who wrote: "Well done! One of the best and well presented assignments I have ever marked. Keep this level of commitment up and you will exceed even your own expectations."
Boss Mike Mudie is understandably chuffed: "Tell your readers there is no reason at all why women shouldn't do well in our industry!" Quite so, Mike. Let's see a few more employers follow suit
rang round his friends to find an available truck. And it was trusty old Brian Parkinson at Key Leasing in Manchester who saved the day, supplying an MAN Eco 320 with curtainsider, complete with a free tank of diesel.
Dooner had joined up with the Ipswich Appeal for Romania and collected 16 tonnes of food, clothing and cleaning materials for children in an orphanage in Codlea, Romania.
After a journey lasting two-anda-half days, during which Dooner, her sixyear-old son Jason and co-driver Richard Hoey had much of their load stolen by customs officials, they arrived at the orphanage—home to 125 abandoned children.
After Codlea, the party drove on to a neurological hospital at Zarnesti which houses 204 psychiatric patients and where Jason gave his socks to a young lad who didn't have any.
Dooner was particularly impressed with the MAN which averaged 10.9mpg-13 mpg empty and 9.7mpg fully freighted over the 3,500 miles.
The trip, thanks to help from many sources including P&O, Orwell Trucks, Brinor Freight, Morrison Freight and the Fast Coast Trucker's Club, was a "tremendous success and a wonderful opportunity", says Dooner. Asked if she would do it all again, she gave the emphatic reply "Yes"! The Hawk's compliments to all concerned.
Cowboy round-up
The call by Brake to introduce laws to bring the cowboys of the industry to justice may seem the answer to the problem, but we feel that a lot more is needed to be done
We would firstly call for more (Vehicle Inspectorate) staff to carry out not only roadside checks but also to visit haulage sites to check the servicing facilities for vehicles.
We would also like to see roadside checks carried out at unusual hours of the day and at weekends, and on smaller roads.
Secondly, we want more money to be ploughed back into the industry (excluding the money spent on roads) with subsidies to allow hauliers to purchase newer, safer, vehicles.
Thirdly, we want to see a fairer rating system to allow the vast majority of legal hauliers to maintain their vehicles instead of cutting back on standards.
We believe that legislation alongside these changes will force the industry to improve its standards and help improve public safety. Jack Crossfield, Drivers Action Movement.
How's niv sticker?
Jam writing to protest about this ludicrous move to burden professional drivers with "flows ow Driving?" stickers attached to the rear doors of their vehicles showing a telephone number inviting abuse.
Surely we should be devising strategies to help motorists to take responsibility for their own behaviour rather than focus on that behaviour that might irritate them.
"Hows my Driving?" promotes a blame culture on the road and encourages mischievous attacks on citizens in the workplace.
If I picked up a trailer in the morning with such a sticker on the back, I would cover it up before I left the yard.
Robert Hackford, Faversham, Kent.
Drawbar dates
The article on drawbars (CM 7-13 December 1995) made interesting reading but I must take issue with the caption under the photo of the UK Waste bulk refuse drawbar: "Drawbars are now being used in unusual operations
previously unthought of:' Sorry—way out!
West Sussex County Council was running 6x4 Volvo F7 rigids with drawbars on waste movements in 1981. In the mid-eighties the council even arranged a drawbar demonstration for the then Transport Secretary, Peter Bottomley, to try to persuade the Government of the benefits of drawbars especially if the then 32 tonne CVW was increased.
A council operation way ahead of its time.
John Ashmore, Chichester