I n a place as remote as the Shetland Isles, survival
4th January 1996
Page 14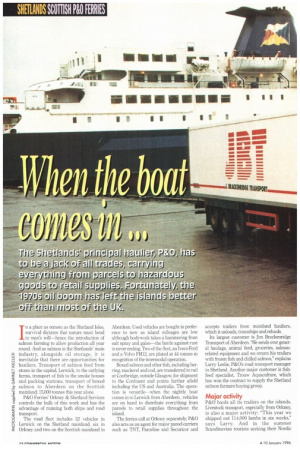 Page 15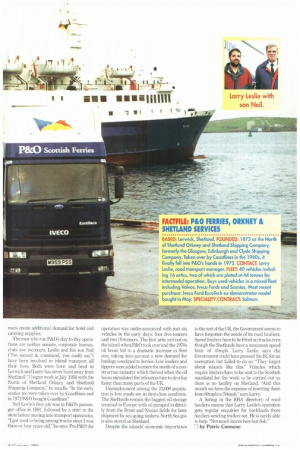 Page 14, 4th January 1996 —
I n a place as remote as the Shetland Isles, survival
Close
dictates that nature must bend to man's will—hence the introduction of salmon farming to allow production all year round. And as salmon is the Shetlands' main industry, alongside oil storage, it is inevitable that there are opportunities for hauliers. Transport of salmon feed from stores in the capital. Lerwick, to the outlying farms, transport of fish to the smoke houses and packing stations, transport of boxed salmon to Aberdeen on the Scottish mainland; 15,000 tonnes this year alone.
P&O Ferries' Orkney & Shetland Services controls the bulk of this work and has the advantage of running both ships and road transport.
The road fleet includes 32 vehicles in Lerwick on the Shetland mainland, six in Orkney and two on the Scottish mainland in Aberdeen. Used vehicles are bought in preference to new as island mileages are low although bodywork takes a hammering from salt spray and gales—the battle against rust is never ending. Two of the fleet, an Iveco Ford and a Volvo FH12, are plated at 44 tonnes in recognition of the intermodal operation.
Boxed salmon and other fish, including herring, mackerel and cod, are transferred to rail at Coatbridge, outside Glasgow, for shipment to the Continent and points further afield including the US and Australia. The operation is versatile—when the nightly boat comes in to Lerwick from Aberdeen , vehicles are on hand to distribute everything from parcels to retail supplies throughout the The ferries call at Orkney separately; P&O also acts as an agent for major parcel carriers such as TNT, Parceline and Securicor and accepts trailers from mainland hauliers, which it unloads, transships and reloads.
Its largest customer is Jim Brackenridge Transport of Aberdeen. "He sends over general haulage, animal feed, groceries, salmonrelated equipment and we return his trailers with frozen fish and chilled salmon," explains Larry Leslie, P&O's road transport manager in Shetland. Another major customer is fishfeed specialist, Trouw Aquaculture, which has won the contract to supply the Shetland salmon farmers buying group.
Major activity
P&O hauls all its trailers on the islands. Livestock transport, especially from Orkney, is also a major activity: "This year we shipped out 114,000 lambs in six weeks," says Larry. And in the summer Scandinavian tourists seeking their Nordic roots create additional demand for hotel and catering supplies.
The men who run P&O 's day-to-day operations are neither remote, corporate bureaucrats nor incomers. Leslie and his son Neil ("I'm second in command, you could say") have been involved in island transport all their lives. Both were born and bred in Lerwick and Larry has never lived away from Shetland: "I began work in July 1956 with the North of Shetland Orkney and Shetland Shipping Company," he recalls. "In the early sixties we were taken over by Coastlines and in 1972 P&O bought Coastlines."
Neil Leslie's first job was in P&O 's passenger office in 1981, followed by a stint in the store before moving into transport operations. "I got used to being among trucks since I was three or four years old," he says. Pre-P&O the
operation was under.resourced with just six vehicles in the early days: four five-tonners and two 10-tanners. The first artic arrived on the island when P&O took over and the 1970s oil boom led to a dramatic increase in fleet size, taking into account a new demand for haulage unrelated to ferries. Low loaders and tippers were added to meet the needs of a construction industry which thrived when the oil boom stimulated the infrastructure to develop faster than many parts of the UK.
Unemployment among the 23,000 population is low, roads are in first-class condition. The Shetlands remain the biggest oil storage terminal in Europe with oil pumped in directly from the Brent and Ninian fields for later shipment by sea-going tankers. North Sea gas is also stored on Shetland.
Despite the islands' economic importance to the rest of the UK, the Government seems to have forgotten the needs of its road hauliers. Speed limiters have to be fitted on trucks even though the Shetlands have a maximum speed limit of 40mph. Larry Leslie says the Government could have pressed the EC for an exemption but failed to do so: "They forgot about islands like this." Vehicles which require limiters have to be sent to the Scottish mainland for the work to be carried out as there is no facility on Shetland. "And this month we have the expense of resetting them from 60mph to 56mph," says Larry A listing in the RBA directory of road hauliers means that Larry Leslie's operation gets regular enquiries for backloads from hauliers sending trailers out. He is rarely able to help: "Not much leaves here but fish."
fl by Patric Cunnane