Multi-Pak smooths Budgens' deliveries
4th January 1996
Page 12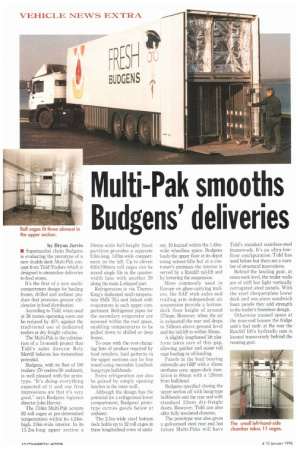 Page 12, 4th January 1996 —
Multi-Pak smooths Budgens' deliveries
Close
by Bryan Jarvis • Supermarket chain Budgens is evaluating the prototype of a new double-deck Multi-Pak concept from Tidd Trailers which is designed to streamline deliveries to food stores.
It's the first of a new multicompartment design for hauling frozen, chilled and ambient produce that promises greater efficiencies in food distribution.
According to Tidd, when used at 38 tonnes operating costs can be reduced by 45% against the traditional use of dedicated reefers or dry freight vehicles.
The Multi-Pak is the culmination of a 14-month project that Tidd's sales director Roly Merrill believes has tremendous potential.
Budgens, with its fleet of 100 trailers (70 reefers/30 ambient), is well pleased with the prototype. "It's doing everything expected of it and our first impressions are that it's very good," says Budgens logistics director John Harvey.
The 13.6m Multi-Pak accepts 82 roll cages at pre-determined temperatures within its 4.24mhigh, 2.6m-wide interior. In its 13.2m-long upper section a 50mm-wide full-height fixed partition provides a separate 9.3m-long, 1.03m-wide compartment on the left. Up to eleven 820x700mm roll cages can be stored single file in the quarterwidth lane with another 39 along the main L-shaped part.
Refrigeration is via Thermo King's dedicated multi-temperature SMX TCi unit linked with evaporators in each upper compartment. Refrigerant pipes for the secondary evaporator are recessed within the roof space, enabling temperatures to be pulled down to chilled or deep frozen.
To cope with the ever-changing lists of produce required by food retailers, load patterns in the upper sections can be fine tuned using moveable Loadlock bung-type bulkheads.
Extra refrigeration can also be gained by simply opening hatches in the inner wall.
Although the design has the potential for a refrigerated lower compartment, Budgens' prototype carries goods below at ambient.
The 2.5m-wide steel bottom deck holds up to 32 roll cages in three longitudinal rows of ambi
ent, 10 located within the 1.45mwide wheelbox space. Budgens loads the upper floor at its depot using scissor-lifts but at a customer's premises the interior is served by a Ratcliff tail-lift and by lowering the suspension.
More commonly used in Europe on glass-carrying trailers, the SAF stub axles and trailing arm independent air suspension provide a bottomdeck floor height of around 375mm. However, when the air is exhausted the rear end drops to 245mm above ground level and the tail-lift to within 50mm.
A slightly lengthened lift platform takes care of this gap, allowing quicker and easier roll cage loading or off-loading.
Panels in the load bearing sidewalls are GRP with a 45mm urethane core; upper-deck insulation is 90mm with a 120mm front bulkhead.
Budgens specified closing the upper section off with bung-type bulkheads and the rear end with standard 23mm dry-freight doors. However, Tidd can also offer fully insulated closures.
The prototype was also given a galvanised steel rear end but future Multi-Paks will have Tidd's standard stainless-steel framework. It's an ultra-lowfloor configuration Tidd has used before but there are a number of structural innovations.
Behind the landing gear, at swan-neck level, the trailer walls are of stiff but light vertically corrugated steel panels. With the steel chequerplate lower deck and one-piece sandwich foam panels they add strength to the trailer's frameless design.
Otherwise unused space at the nose-end houses the fridge unit's fuel tank: at the rear the Ratcliff lift's hydraulic ram is located transversely behind the running gear.