Transport manager keeps repute while firm loses licence
4th January 1996
Page 11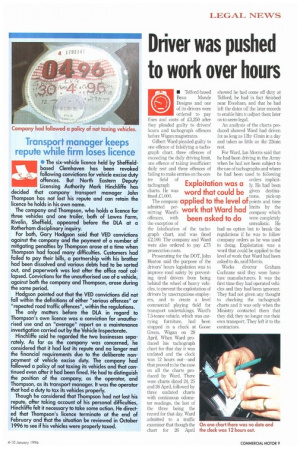 Page 11, 4th January 1996 —
Transport manager keeps repute while firm loses licence
Close
a• The six-vehicle licence held by Sheffieldbased Clemhaven has been revoked following convictions for vehicle excise duty offences. But North Eastern Deputy Licensing Authority Mark Hinchliffe has decided that company transport manager John Thompson has not lost his repute and can retain the licence he holds in his own name.
The company and Thompson, who holds a licence for three vehicles and one trailer, both of Lawns Farm, Rivelin, Sheffield, appeared before the DLA at a Rotherham disciplinary inquiry. For both, Gary Hodgson said that VED convictions against the company and the payment of a number of mitigating penalties by Thompson arose at a time when Thompson had faced many difficulties. Customers had failed to pay their bills, a partnership with his brother had been dissolved and various debts had to be sorted out, and paperwork was lost after the office roof collapsed. Convictions for the unauthorised use of a vehicle, against both the company and Thompson, arose during the same period.
Hodgson pointed out that the VED convictions did not fall within the definitions of either "serious offences" or "repeated road traffic offences", within the regulations. The only matters before the DLA in regard to Thompson's own licence was a conviction for unauthorised use and an "average" report on a maintenance investigation carried out by the Vehicle Inspectorate. Hinchliffe said he regarded the two businesses separately. As far as the company was concerned, he considered that it had lost its repute and no longer met the financial requirements due to the deliberate nonpayment of vehicle excise duty. The company had followed a policy of not taxing its vehicles and that continued even after it had been fined. He had to distinguish the position of the company, as the operator, and Thompson, as its transport manager. It was the operator that had a duty to tax its vehicles proper* Though he considered that Thompson had not lost his repute, after taking account of his personal difficulties, Hinchliffe felt it necessary to take some action. He directed that Thompson's licence terminate at the end of February and that the situation be reviewed in October 1996 to see if his vehicles were properly taxed.