Heavy work made problems
4th January 1996
Page 10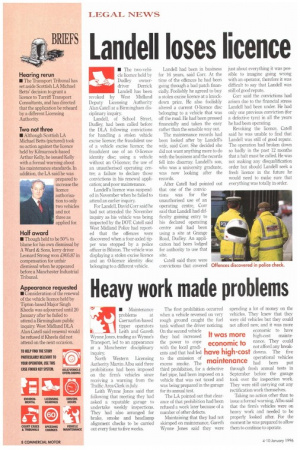 Page 10, 4th January 1996 —
Heavy work made problems
Close
• Maintenance problems at Caernarfon-based tipper operators Leith and Gareth Wynne Jones, trading as Wynne's Transport, led to an appearance at a Manchester disciplinary inquiry.
North Western Licensing Authority Martin Albu said three prohibitions had been imposed on the firm's vehicles since receiving a warning from the Traffic Area Clerk in July.
Leith Wynne Jones said that following that meeting they had asked a reputable garage to undertake weekly inspections. They had also arranged for brake, smoke and headlamp alignment checks to be carried out every four to five weeks. The first prohibition occurred when a vehicle reversed on very rough ground caught the fuel tank without the driver noticing. On the second vehicle
they had increased It was more the power to cope economic to with the local gradi ents and that had led have high-cost to the emission of excess smoke. The maintenance third prohibition, for a defective fuel pipe, had been imposed on a vehicle that was not taxed and was being prepared in the garage for its annual test.
The LA pointed out that clearance of that prohibition had been refused a week later because of a number of other defects.
Maintaining that they had not skimped on maintenance, Gareth Wynne Jones said they were spending a lot of money on the vehicles. They knew that they were old vehicles but they could not afford new, and it was more economic to have high-cost maintenance. They could not afford any breakdowns. The five operational vehicles had been put through fresh annual tests in September before the garage took over the inspection work. They were still carrying out any rectification work themselves.
Taking no action other than to issue a formal warning, Albu said that the firm's vehicles were on heavy work and needed to be properly looked after. For the moment he was prepared to allow them to continue to operate.