!Andell loses licence
4th January 1996
Page 10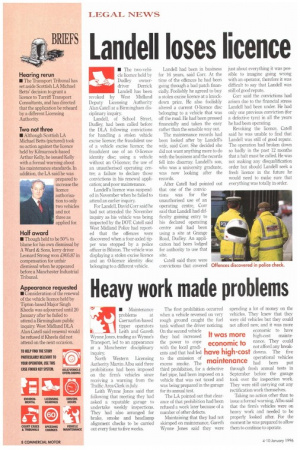 Page 10, 4th January 1996 —
!Andell loses licence
Close
• The two-vehicle licence held by Dudley ownerdriver Derrick Landell has been revoked by West Midland Deputy Licensing Authority Alan Catell at a Birmingham disciplinary inquiry.
Landell, of School Street, Dudley, had been called before the DLA following convictions for handling a stolen vehicle excise licence; the fraudulent use of a vehicle excise licence; the fraudulent use of an 0-licence identity disc; using a vehicle without an 0-licence; the use of an unauthorised operating centre; a failure to declare those convictions in his renewal application; and poor maintenance.
Landell's licence was suspended in November when he failed to attend an earlier inquiry.
For Landell, David Corr said he had not attended the November inquiry as his vehicle was being inspected by the DOT Catell said West Midland Police had reported that the offences were discovered when a four-axled tipper was stopped by a police officer in Bilston. The vehicle was displaying a stolen excise licence and an 0-licence identity disc belonging to a different vehicle. Landell had been in business for 16 years, said Corr. At the time of the offences he had been going through a bad patch financially. Foolishly he agreed to buy a stolen excise licence at a knockdown price. He also foolishly altered a current 0-licence disc belonging to a vehicle that was off the mad. He had been pressed financially and taken the easy rather than the sensible way out.
The maintenance records had been looked after by Landell's wife, said Corr. She decided she did not want anything more to do with the business and the records fell into disarray. Landell's son, who was a university graduate, was now looking after the records.
After Catell had pointed out that one of the convictions was for the unauthorised use of an operating centre, Corr said that Landell had difficulty gaining entry to his declared operating centre and had been using a site at Grange Road, Dudley. An application had been lodged for authority to use that site.
Catell said there were convictions that covered just about everything it was possible to imagine going wrong with an operator, therefore it was difficult to say that Landell was still of good repute.
Corr said the convictions had arisen due to the financial stress Landell had been under. He had only one previous conviction (for a defective tyre) in all the years he had been operating.
Revoking the licence, Catell said he was unable to find that Landell was still of good repute. The operation had broken down so badly in the past 12 months that a halt must be called. He was not making any disqualification order but should Landell seek a fresh licence in the future he would need to make sure that everything was totally in order.