Ventilation of Welding Shops
4th January 1952
Page 53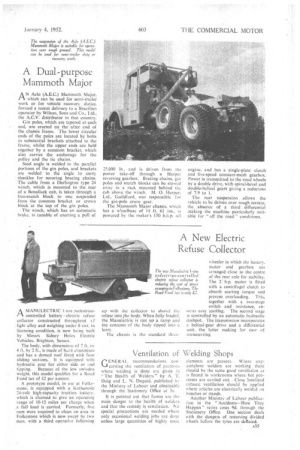 Page 53, 4th January 1952 —
Ventilation of Welding Shops
Close
ENER A L recommendations con cerning the ventilation of premises where welding is done are given in "The Health of Welders" by A. T. Doig and L. N. Duguid, published by the Ministry of Labour and obtainable through the Stationery Office at 3s.
It is pointed out that fumes are the main danger to the health of welders and that the remedy is ventilation. No special precautions are needed where only occasional welding jobs are done unless large quantities of highly toxic elements are present. Where oxyacetylene welders are working there should be the same good ventilation .ss is found in workrooms where hot processes are carried out. Close localized exhaust ventilation should be applied where articles are electrically welded on benches or stands.
Another Ministry of Labour publication in the "Accidents—How They Happen" series costs 9d. through the Stationery Office. One section deals N.sith the dangers of removing divided wheels before the tyres are deflated.