A Multi-purpose Four-wheel-drive Scammell
4th January 1952
Page 40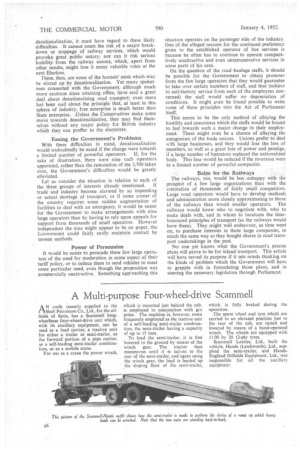 Page 40, 4th January 1952 —
A Multi-purpose Four-wheel-drive Scammell
Close
PIA N outfit recently supplied to the Shell Petroleum Co., Ltd., for the oilfields of Seria, has a Scammell longwheelbase four-wheel-drive unit which, with its ancillary equipment, can be used as a load carrier, a tractive unit for either a trailer or semi-trailer, as the forward portion of a pipe carrier, as a self-loading semi-trailer combination, or as a mobile crane.
For use as a crane the power winch, which is mounted just behind the cab, is employed in conjunction with gin poles. The machine is, however, more frequently employed as the tractive unit of a self-loading semi-trailer combination, the semi-trailer having a capacity of up to 15 tons.
To load the semi-trailer, it is first lowered to the ground by means of the winch gear. The tractor then manceuvres until it is tail-on to the rear of the semi-trailer, and again using the winch gear, the load is hauled up the sloping floor of the semi-trailer, which is fully braked during the operation.
The spare wheel and tyre which are carried in an elevated position just to the rear of the cab, are raised and lowered by means of a hand-operated winch. The wheels are equipped with 11.00 by 20 12-ply tyres.
Scammell Lorries, Ltd., built the vehicle, Hands (Letchworth), Ltd., supplied the semi-trailer, and HandsEngland Oilfields Equipment, Ltd., was responsible for all the ancillary equipment.