103,509 Vehicles Carried by Ferry
4th January 1952
Page 38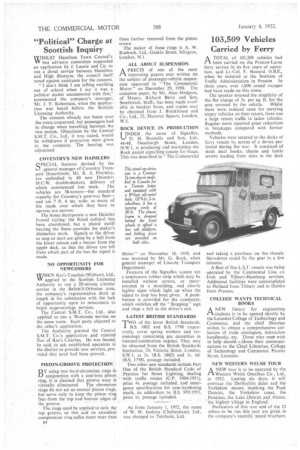 Page 38, 4th January 1952 —
103,509 Vehicles Carried by Ferry
Close
ATOTAL of 103,509 vehicles had been carried on the Preston-Larne ferry service in its five years of operation, said Lt.-Col. F, Bustard,
when he lectured to the Institute of Traffic Administration in Preston In three years, over 1,000 round voyages had been made on this route.
The speaker stressed the simplicity of the flat charge of 3s. per sq. ft. for the area covered by the vehicle. Whilst there were reduced rates for carrying empty vehicles on their return, there was a large return traffic in laden vehicles. Regular users reported great reductions in breakages compared with former methods.
Vehicles were secured to the decks of ferry vessels by means of a device perfected during the war. It consisted of stout steel hooks, chains and bottle screws leacling from slots in the deck
and taking a purchase on the, chassis. Stevedores could fix the gear in a few minutes.
A fleet of five L.S.T. vessels was being operated by the Continental Line en • Irish and Tidbury-Hamburg services. Additional facilities were contemplated to Holland from Tilbury and to Dublin from Preston.