Kept Company
4th January 1952
Page 37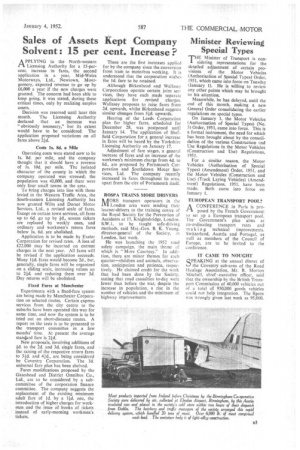 Page 37, 4th January 1952 —
Kept Company
Close
cent. Increase ?
These are the first increases applied for by the company since the conversion from tram to motorbus working. It is understood that the corporation wishes the Id. fare to be retained.
Although Birkenhead and Wallasey Corporations operate certain joint services, they have each made separate applications for revised charges. Wallasey proposes to raise fares from 2d. upwards, whilst Birkenhead suggests similar changes from 3id. upwards.
Hearing of the Leeds Corporation plan for higher fares, scheduled for December 28, was postponed until January 14. The application of Sheffield Corporation for a general increase in fares will be heard by the Yorkshire Licensing Authority on January 17.
Adjustment of fare stages, a general increase of fares and an increase of the workmen's minimum charge from 4d. to 6d., are proposed by Portsmouth Corporation and Southdown Motor Services, Ltd. The company recently increased its fares throughout its area, apart from the city of Portsmouth itself.