One
4th January 1952
Page 33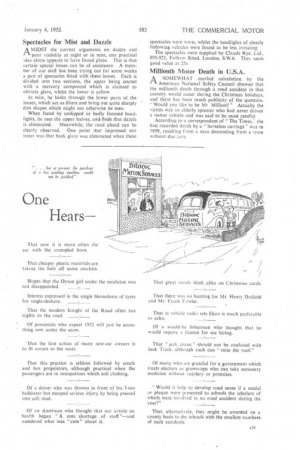 Page 33, 4th January 1952 —
One
Close
Hears— That now it is more often the car with the crumpled horn.
That cheaper plastic materials are taking the hide off some markets.
Hopes that the Dyson girl under the mistletoe was not disappointed.
Interest expressed in the single blessedness of tyres for single-deckers.
That the modern Knight of the Road Often has nights on the road. _ • Of pessimists who expect 1952 will just be something new under the snow.
That the first action of many new-car owners is to lit covers to the seats.
That this practice is seldom followed by coach arid bus proprietors, although practical when the passengers are in occupations which soil clothing.
Of a driver who was thrown in front of his 5-ton bulldozer but escaped serious injury by being pressed into soft mud.
Of an American who thought that our article on health began "A cute shortage of staff"—and wondered what Was "cute" about it.
That great minds think ailike on Christmas cards.
That there was no hunting for Mr. Henry Duillekl and Mr. Frank Fowler.
That in vehicle radio sets Ekco is much preferable to echo.
Of a would-be fisherman who thought that he would require a licence for sea hiring.
That jack crane" should not be confused with Jack Train, although each can "raise the roof."
Of many who are grateful for a government which treats electors as grown-ups who can take necessary medicine without cajolery or promises.
Would it help to develop road sense if a medal or plaque were presented to schools the scholars of which were in% olved in no road accident during the year?"
That, alternatively, they might be awarded on a county basis to the schools with the smallest numbers Of such accidents.