That Alcoholic Content
4th January 1952
Page 32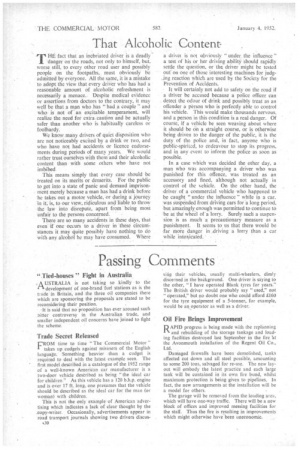 Page 32, 4th January 1952 —
That Alcoholic Content
Close
THE fact that an inebriated driver is a deadly danger on the roads, not only to himself, but, worse still, to every other road user and possibly people on the footpaths, must obviously be admitted by everyone. All the same, it is a mistake to adopt the view that every driver who has had a reasonable amount of alcoholic refreshment is necessarily a menace. Despite medical evidence or assertions from doctors to the contrary, it may well be that a man who has "had a couple" and who is not of an excitable temperament, will realize the need for extraxaution and be actually safer than another who is habitually careless or foolhardy. We know many drivers of quiet disposition who are not noticeably excited by a drink or two, and who have not had accidents or licence endorsements during periods of many years. We would rather trust ourselves with them and their alcoholic content than with some others who have not imbibed This means simply that every case should be treated on its merits or demerits. For the public to get into a state of panic and demand imprisonment merely because a man has had a drink before -he takes out a motor vehicle, or during a journey in it, is, to our view, ridiculous and liable to throw the law into disrepute, apart from being most unfair to the persons concerned.
There are so many accidents in these days, that even if one occurs to a driver in 'these circturi:. stances it may quite possibly have nothing to do with any alcohol he may have consumed. Where a driver is not obviously " under, the influence" a test of his or her driving ability should rapidly settle the question, or the driver might be tested oul on one of those interesting machines for judg"Me reaction which. are used by the Society for the Prevention of Accidents.
• It will certainly not add to safety on the road if a driver be accused because a police officer can detect the odour of drink and possibly treat as an offender a person who is perfectly able to control his vehicle. This would make thousands nervous, and a person in this condition is a real danger. Of course, if a vehicle be seen weaving about where it should be On a straight course, or is otherwise being driven to the danger of the public, it is the duty of the police and, in fact, anyone who is public-spirited, to endeavour to stop its progress, and in any event to inform the police as soon as possible.
In a case which was decided the other day, a man who was accompanying a driver who was punished for this offence, was treated as an accessory and fined, although not actually in control of the vehicle. On the other hand, the driver.of a commercial vehicle who happened to be caught. "underthe influence" white in a car. was suspended from driving cars for a long period, but amazinglyenough was permitted to continue to be at the wheel of a lorry. Surety such a suspen .sion is as much a precautionary MeaSure as a punishment. It seems to us that there would be lar more danger in ,driving a lorry than a car while intoxicated."