Passing Comments
4th January 1952
Page 32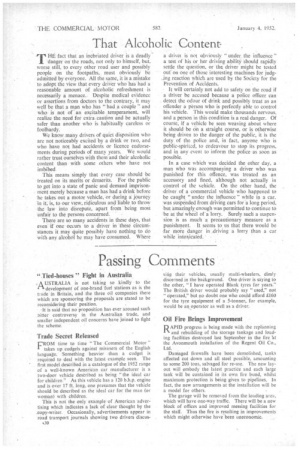 Page 33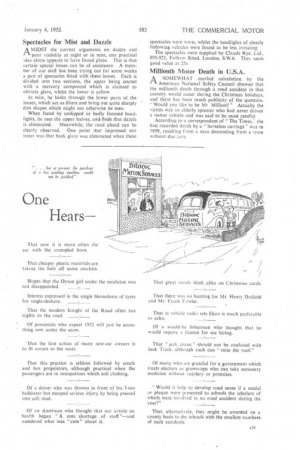 Page 32, 4th January 1952 —
Passing Comments
Close
"Tied-houses" Fight in Australia.
: AUSTRALIA is not taking so kindly to the development of one-brand-fuel stations as is the trade in Britain, and the three oil companies there which are sponsoring the proposals are stated to be reconsidering their position.
It is said that no.proposition has ever aroused such nitter controversy in the Australian trade, and smaller independent oil concerns have joined to fight the scheme.
Trade Secret Released
pROM time to time "The Commercial Motor
takes up cudgels against misusers of the English language. Something heavier than a cudgel is required to deal with the latest example seen. The first model described in a catalogue of the 1952 range of a well-known American car manufacturer is a two-dour vehicle described as being "the ideal car for children." As this vehicle has a 120 b.h.p. engine and is over 17 ft. long, one presumes that the vehicle should be described as the ideal car for the man (or woman) with children.
This is not the only example of American advertising which indicates a lack of clear thought by the ,copy-writer. Occasionally, advertisements appear in road transport journals showing two drivers discus
4.30 sing their vehicles, usually multi-wheelers, dimly discerned in the background. One driver is saying to the other, "I have operated Blank tyres for years." The British driver would probably say "used," not "operated," but no doubt one who could afford £160 for the tyre equipment of a 5-tonner, for example, would be an operator as well as a driver.
Oil Fire Brings Improvement
J APID progress is being made with the replanning " and rebuilding of the storage tankage and loading facilities destroyed last September in the lire t the Avonmouth installation of the Regent Oil Co.,
Ltd. • Damaged firewalls have been demolished, tank affected cut down and all steel possible, amounting to some 200 tons, salvaged for re-use. The new layout will embody the latest practiee and each large tank will be contained in its own fire bond, whilst maximum protection is being given to pipelines. In fact, the new arrangements at the installation will be a model for others.
The garage will be removed from the loading area, which will have one-way traffic. There will be a new block of offices and improved messing facilities for the staff. Thus the fire is resulting in improvements which might otherwise have been uneconomic. "
Spectacles for Mist and Dazzle
AMIDST the current arguments on dazzle and poor visibility at night or in mist, one practical idea alone appears to have found place. This is that certain special lenses can be of assistance. A member of our staff has been trying out for some weeks a pair of spectacles fitted with these lenses. Each is divided into two sections, the upper being coated with a mercury compound which is claimed to obviate glare, whilst the lower is yellow
In mist, he looks through the lower parts of the lenses, which act as filters and bring out quite sharply dim shapes which might not otherwise be seen.
When faced by undipped or badly focused headlights, he uses the upper halves, and finds that dazzle is. eliminated. Meanwhile, die road ahead can be clearly observed. One point that impressed our tester was that back glare was eliminated when these
spectacles were worn, whilst the headlights of closely following 'vehicles were found to be less irritating
The spectacles were supplied by Claude Rye. Ltd., 895-921, Fulham Road, London, S.W.6. They seem good value at 25s
Millionth Motor Death in U.S.A.
A SOMEWHAT morbid calculation by the
American National Safety Council showed that the millionth death through a road accident in that country would occur during the Christmas holidays, and there has been much publicity of the question, "Would you like to be Mr Million?" Actually the victim was an elderly spinster who had never driven a motor vehicle and was said to be most careful.
According to a correspondent of " The Times." the first recorded death by a " horseless carriage" was in 1899, resulting from a man descending from a tram without due care.