Gleanings from the German Roads
4th February 1938
Page 9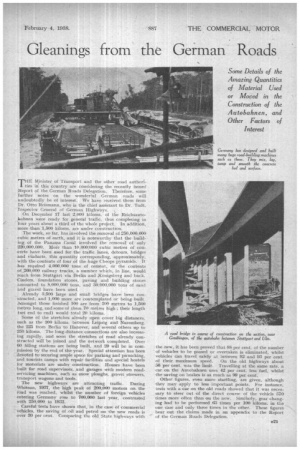 Page 9, 4th February 1938 —
Gleanings from the German Roads
Close
THE Minister of Transport and the other road authorities in this country are considering the recently issued Report of the German Roads Delegation. Therefore, some further notes on the wonderful German roads will undoubtedly he of interest. We have received them from Dr. Otto Reismann, who is the chief assistant to Dr. Todt, Inspector General of German Highways.
On December 17 last 2,000 kiloms. of the Reichsauto1.)ahnen were ready for general traffic, thus completing in tour years about a third of the whole project. In addition, more than 1,500 kiloms, are under construction.
The work, so far, has involved the removal of 250,000,000 cubic metres of earth, and it is noteworthy that the buildlug of the Panama Canal involved the removal of only 220,000,000. More than 10,000;000 cubic metres of concrete have been used for the traffic lanes, detours, bridges and viaducts, this quantity corresponding, approximately, with the contents of four of the huge Cheops pyramids. It has required 4,000,000 tons of cement, or the contents of 260,000 railway trucks, a number which, in line, would reach from Stuttgart via Berlin and Konigsberg and back. 'Cinders, foundation stones, paving and building stones amounted to 8,000,000 tons, and 80,000,000 tons of sand and gravel have been used.
Already 8,500 large and small bridges have been constructed, and 1,000 more are contemplated or being built Asnongst those finished 100 are from 300 metres to 1,500 metres long, and some of them 70 metres high ; their length (set end to end) would total 20 Horns.
Some of the stretches already open cover big distances, Such as the 300 kiloms. between Leipzig and Nuremberg, the 215 from Berlin to Hanover, and several others up to 250 kiloms. The long-distance connections are also increasing rapidly, and soon the stretches of road already constructed will be joined and the network completed. Over 60 filling stations are being built, and 20 will be in commission by the end of the year. Special attention has been :devoted to securing ample space for parking and picnicking, and tourists camps with repair facilities and special hostels for motorists are under construction. Houses have been • built for road supervisors, and garages with modem roadservicing machines, such as snow ploughs, gravel strewers, transport wagons and tools.
The new highways are attracting traffic. During Whitsun, 1937, the high peak of 200,000 motors on the road was reached, whilst the number of foreign vehicles entering Germany rose to 700,000 last year, contrasted with 250,000 in 1932.
Careful tests have shown that, in the case of commercial : vehicles, the sailing of oil and petrol on the new roads is over 30 per cent. Comparing the old State highways with
the new, it has been proved that 88 per cent, of the number of vehicles to be passed or overtaken is eliminated, whilst vehicles can travel safely at between 92 and 93 per cent. of their maximum speed. On the old highways about 56 per cent, was the limit. Travelling at the same rate, a car on the Autobahnen uses 42 per cent, less fuel, whilst the saving on brakes is as much as 99 per cent.
Other figures, even more startling, are given, although they may apply to less important points. For instance, tests with a car on the old roads showed that it was necessary tO steer out of the direct course of the vehicle 570 times more often than on the new. Similarly, gear changing had to be performed 63 times per 100 kiloms. in the one case and only three times in the other. These figures bear out the claims made in an appendix to the Report of the German Roads Delegation. •