Witness interviewed: Railway Reproved
4th February 1938
Page 8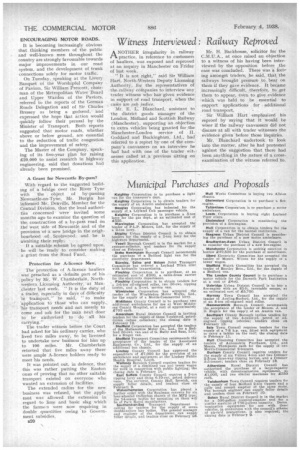 Page 8, 4th February 1938 —
Witness interviewed: Railway Reproved
Close
A NOTHER irregularity in railway /-1. practice, in reference to customers of hauliers, was exposed and reproved at an inquiry in Manchester on Friday of hist week.
" It is not right," said Sir William Hart, North-Western Deputy Licensing Authority, for the representatives of the railway companies to interview any trader witness who has given evidence in support of road transport, when the cases are sub judice.
Mr. E. L". Blanchard, assistant to the district goods manager of the London. Midland and Scottish Railway (Manchester), supporting an objection to extra vehicles being granted for the Manchester-London service of H. Goddard and Buckingham, Ltd., had referred to a report by one of the company's canvassers on an interview he had had with one of the 'trader witnesses called at a previous sitting on this application.
Mr. H. Backhouse, solicitor for the C.M.TJ.A., at once raised an objection to a witness of his having been interviewed by the opposition before the case was concluded. There was a feel!. ing amongst traders, he said, that the railways brought pressure to bear on them if they gave evidence. It became increasingly difficult, therefore,, to get them to appear, even to give evidence which was held to be essential to ,support applications for additional road transport.
Sir 'William Hart• emphasized his reproof by saying that it would be wiser if the railway canvassers did not discuss at all with trader witnesses the evidence given before those inquiries.
Mr. Blanchard undertook to look into the matter, after he had protested against the suggestion that there had been anything in the nature of a crossexamination of the witness referred to.