Tribunal Upholds Yorks Authority B Y a reserved decision, the Appeal
4th February 1938
Page 7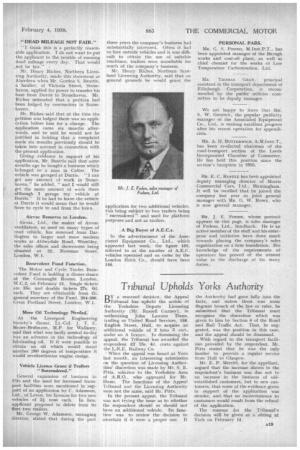 Page 7, 4th February 1938 —
Tribunal Upholds Yorks Authority B Y a reserved decision, the Appeal
Close
Tribunal has upheld the action of the Yorkshire Deputy Licensing Authority (Mr. Russell Gurney), in authorizing John Lawson Dunn, trading as United Road Services, 158, English Street, Hull, to acquire an additional vehicle of 2 tons ri cwt., under an A licence. In dismissing the appeal, the Tribunal has awarded the respondent £7 18s. 4d. costs against the L.N.E. Railway Co.
When the appeal was heard at York last month, an interesting submission on the 'question of Licensing Authorities' discretion was made by Mr. S. E. Pitts, solicitor to the Yorkshire Area of A.R.O., who appeared for Mr. Dunn. The functions of the Appeal Tribunal and the Licensing Authority were not the same, said Mr. Pitts.
In the present appeal, the Tribunal was not trying the issue as to whether the respondent should Or should not have an additional vehicle. -Its function was to review the decision to ascertain if it were a proper one. If
the AuthoritY had gone fully into the facts, and unless there was some flagrant breach of the law or rules, he submitted that the Tribunal must recognize the discretion which was given to him by Section 6 of the Road and Rail Traffic Act. That, he suggested, was the position in this case, and the appeal should be dismissed.
With regard to the transport facilities provided by the respondent, Mr. Pitts stated that he was the only haulier to provide a regular service from Hull to Glasgow.
Mr. E. P. Merritt, for the appellant, argued that the increase shown in the respondent's business was due not to an increase in the business of oldestablished customers, but to new customers., that some of the evidence given in support of the application was slender, and that no inconvenience to customers-would result from the refusal of the application.
The reasons or the Tribunal's decision will be given at asitting at
York on February 14. •