"DEAD MILEAGE NOT FAIR."
4th February 1938
Page 7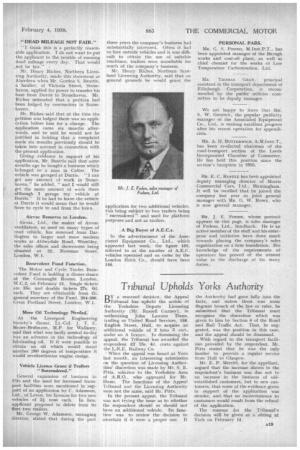 Page 7, 4th February 1938 —
"DEAD MILEAGE NOT FAIR."
Close
"I think this is a perfectly reasonable application. I do not want to put the applicant to the trouble of running dead mileage every day. That would. _not be fair."
Mr. Hepry Riches, Northern Licensing Authority, made this statement at Aberdeen when Mr...Gordon 5, Beattie, a • haulier, of Victoria Street, Stonehaven, applied for power to transfer his base from Durris to Stonehaven. Mr. Riches intimated that a petition had been lodged by .contractors in Stonehaven.
Mr. Riches said that at the time the petition was lodged there was no application before him for a change. The application came six months afterwards, and he said he would not be justified in holding that a complaint made six months previously should be taken into account in connection with the present application.
Giving evidence in support of his application, Mr. Beattie said that some months ago he bought a business which belonged to a man in Culter. The vehicle was garaged at Durris. "I can get any amount of work in Stonehaven," he added, "and I would still get the same amount of work there although I garage my vehicle at Durris." If he had to leave the vehicle at Durris it would mean that he would have to cycle to and from the town.
Airvac Removes to London.
Airvac, Ltd., the maker of Airvac ventilators, as used on many types of road vehicle, has removed from Darlington to larger and more modern works at Abbeydale Road, Wembley, the sales offices and showrooms being situated at 22, Newman Street, London, W.1.
* Benevolent Fund Function.
The Motor and Cycle Trades Benevolent Fund is holding a dinner-dance at the Connaught Rooms, London, W.C.2, on February 15. Single tickets are 15s. and double tickets 27s. .6d. each. They are obtainable from tlx, general secretary of the Fund, 204-206, Great Portland Street, London, W. 1.
More Oil Technology Needed: At the Liverpool Engineering Society's dinner, Lt.-Col. J. T. C. Moore-Bratazon, M.P. for Wallasey, said that what was badly needed to-day . was an advance in the technology of lubricating oil. If it were possible to obtain an oil which would stand another 200 degrees of temperature it would revoluntionize engine design.
Vehicle Licence Grant if Trailers "Surrendered."
General expansion of business in Fife and the need for increased transport facilities were mentioned in support of an application by C. Adamson, Ltd., of Leven, for licences for two new vehicles of 24 tons each. In lieu, applicant proposed to delete from its fleet two trailers.
Mr. George W. Adamson, managing director, stated that during the past three years the company's business had substantially increased. Often it had to hire outside vehicles and it was difficult to obtain the use of suitable machines; trailers were unsuitable for much of the company's business.
Mr. Henry Riches, Northern Scotland Licensing Authority, said that on general grounds he would grant the application for two additional vehicles, this being subject to two trailers being surrendered" and used for platform purposes and not as trailers.
A Big Buyer of A.E.C.s.
In the advertisement of the Associated Equipment Co., Ltd., which appeared last week, the figure 132, referred to as the number of A.E.C. vehicles operated and on order by the London Brick Co., should have been 156. PERSONAL PARS.
MR. G. S. POUND, M.Inst.P.T., has been appointed manager of the Barugh works and coal-oil plant, as well as chief chemist for the works of Low Temperature Carbonisation, Ltd.
MR. THOMAS GRAY, principal assistant in the transport department of Edinburgh Corporation, is recornmended by the public utilities committee to be deputy manager.
We are happy to learn that MR. S. W. GoopEy, the popular publicity manager of the Associated Equipment Co., Ltd., is making excellent progress after his recent operation for appendicitis.
MR. A. H. BUTTERWICK, A.M.INst .T., has been re-elected chairman of the road-transport section of the Leeds Incorporated Chamber of Commerce. He has held this position since the section's inception in 1935.
• MR. E. C. RUFFLE has been appointed deputy managing director of Morris Commercial Cars, I td., Birmingham. It will be recalled that he joined the company last year as joint general manager with MR. G. W. ROWE, who is now general manager.
. MR. J. E. FODEN, whose portrait appears on this page, is sales manager of Fodens, Ltd., Sandbach. He is an active member of the stall and his enterprise and initiative have done much towards placing the company's sales organization on a Arm foundation. His knowledge of the requirements of operators has proved of the utmost value in the discharge of his many duties..