What Leicester's Black-out Proved
4th February 1938
Page 6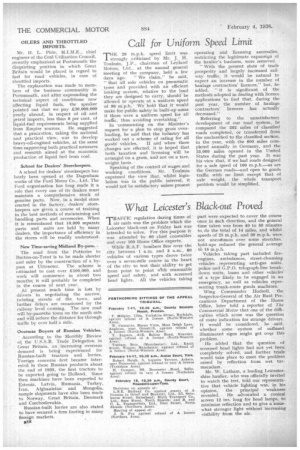 Page 6, 4th February 1938 —
What Leicester's Black-out Proved
Close
TRAFFIC regulation during times of air raids was the problem which the Leicester black-out on Friday last was intended to solve. For this purpose it was attended by 60 chief constables and over 100 Home Office experts.
While R.A.F. bombers flew over the city between 1 a.m. and 3 a.m., 80 vehicles of various types drove twice over a seven-mile course in the heart of the city to test their ability to get from point to point ulth reasonable speed and safety, and with screened head lights. All the vehicles taking part were expected to cover the course once in each direction, and the general time taken was from 40 to 50 minutes to, do the total of 14 miles, and whilst speeds of 25 M.p.h. and 30 M.p.h. were not uncorhmon over some stretches, hpld-ups reduced the general average to 15 m.p.h.
Vehicles taking part included fireengines, ambulances, street-cleansing vehicles representing anti-gas units, police and G.P.O. telegraph-line breakdown units, buses and other vehicles' of a type likely to be engaged in an emergency, as well as vehicles representing trunk-route goods machines.
Wing Commander Hodsoll, the. Inspector-General of the Air Raid Precautions Department of the Home Office, later told a reporter of The Commercial Motor that one of the difficulties which arose was the question of route indication for strange drivers. It would be considered, , he said, whether some system of suffused illuminated signs might get over this problem.
He added that the question of screened head lights had not yet been completely solved, and further trials would take place to meet the problem raised by reflection from wet tarmacadam.
Mr. W. Latham, a leading Leicestershire haulier, who was officially invited to watch the test, told our representative that vehicle lighting was, in his opinion, thefl principal weakness revealed. He advocated a conical screen 12 ins, long for head lamps, to minimize reflection and .to give a somewhat stronger light without increasing visibility from the air.