OILERS AND THROTTLED IMPORTS.
4th February 1938
Page 6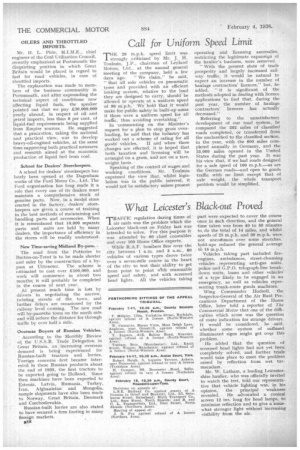 Page 6, 4th February 1938 —
OILERS AND THROTTLED IMPORTS.
Close
Mr. II. L. Pine, M.I.M.E., chief engineer of the Coal Utilization Council, recently emphasized at Portsmouth the disquieting position in which Great Britain would be placed in regard to fuel for road vehicles, in case of throttled imports.
The explanation was made to members of the business community in Portsmouth, and after expounding the technical aspect of conditions now affecting liquid fuels, the speaker pointed out that we pay £30,000,000 yearly abroad, in respect of oil and petrol imports, less than 6 per cent. of liquid-fuel requirements being supplied from Empire sources. He suggested that a preca.ation, taking the national
• and practical view, was to develop heavy-oil-engined vehicles, at the same time supporting both practical measures and research aimed at the economic production of liquid fuel from coal.
School for Dealers' Storekeepers.
A school for dealers' storekeepers has lately been opened at the Dagenham works of the Ford Motor "Co., Ltd. The Ford organization has long made it a rule that every one of its dealers must maintain a comprehensive stock of genuine parts. Now, in a model store erected in the factory, dealers' storekeepers are given a course of training in the best methods of maintaining and handling parts and accessories. When it is remembered that 10,000 separate parts and units are held by many dealers, the importance of efficiency in the stores will be readily understood.
New Time-saving Midland By-pass. • The road from the Potteries to Burton-on-Trent is to be made shorter and safer by the construction of a bypass at Uttoxeter. The scheme is estimated to cost over £100,000, and work will commence in about two months; it will probably be completed in the course of next year.
At present much time is loat by drivers in negotiating the narrow, twisting streets of the town, and 'further delays are occasioned by the railway level crossing. The new road will by-passathe town on the north side and will reduce the distance for through traffic by over half a mile.
Overseas Buyers of Russian Vehicles.
According to the Monthly Review of, the U.S.S.R, Trade Delegation in Great Britain, an , increasing overseas demand is being experienced for Russian-built tractors and lorries. 'Foreign concerns •first became interested in these Russian products about the end of 1935, the first tractors to he exported going to Holland. Since then machines have been exported to Estonia, Latvia, Rumania, Turkey, Iran, Afghanistan and Mongolia, sample shipments have also been made to Norway, Great Britain, Denmark and Czechoslovakia.
Russian-built lorries are also stated to have secured a firm footing in many foreign markets,