Call for Uniform Speed Limit
4th February 1938
Page 6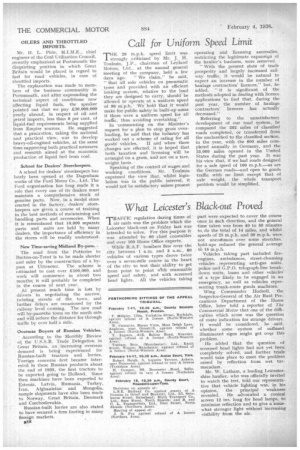 Page 6, 4th February 1938 —
Call for Uniform Speed Limit
Close
THE 20 m.p.h. speed limit was strongly .criticized by Mr. J. H. Toulmin, J.P., chairman of Leyland Motors, Ltd.. at the annual general meeting of the company, held a few days ago. "We claim," he said, "that all solo vehicles on pneumatic tyres and provided with an efficient braking system, relative to the load they are designed to carry, should. be allowed to operate at a uniform speed of 30 m.p.h. We hold that it would make for public safety in built:uP areas if there were a uniform speed for all trafac, thus avoiding overtaking."
In .commenting on the Minister's request for a plan to stop gross 'overloading, he said that the, industry has worked out a scheme of rating for all
goods' Vehicles. If and when these changes are effected, it is hoped. that both taxation and licensing will be arranged on a gross, and not on a tare, weight basis. Speaking of the control of wages and working conditions, Mr. • Toulmin expressed the view that, whilst legislation was in the public interest, it would not be satisfactory unless present operating and licensing anomalies. restricting the legitimate expansion of the haulier's business, were removed.
" With the present state of trade prosperity and largely increased railway traffic, it would be natural to expect an increase in the number of haulage contractors' licences," but, he added, "it is significant of the methods adopted in dealing with licence applications to find that, during the past year, the number of haulage contractors' licences has actually decreased."
Referring to the unsatisfactory development of our road system, he compared the 202 miles of classified roads completed, or transferred from the unclassified to the classified section, in the year, with the 600 miles completed annually in Germany, and the 23,000 miles opened in the United States during the past year. It was his view that, if we had roads designed for a safe speed of 100 m.p.h.—as are the German roads—and open to goods traffic with no limit except that of axle weight, the whole transport problern would be simplified.